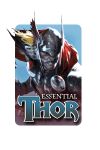 With the release of "Thor" on May 6, 2011 and "Captain America: The First Avenger" on July 22, 2011, Marvel.com presents the Essentials, a series of articles showcasing each character's expansive history and mythology  in the Marvel comics.
From character retrospectives to a look at memorable storylines and interviews with key creators, the Essentials will act as the perfect guide for fans both old and new! Look for new Cap Essentials every Monday and Thor Essentials every Thursday as we head toward the release of each film!

By Marc Strom
In 1983, Walter Simonson stepped in as writer and artist on THOR with issue #337 and began one of the most definitive and iconic runs of the character's career. Even today, fans fondly remember the "Surtur Saga," or the time Loki transformed Thor into a frog, or the villainous Skurge's last stand among so many other stories.
But what made Simonson's work on the title so special? We set out to examine just that in this, the first in a multi-part retrospective on Simonson's THOR run.
The Coming of Beta-Ray Bill
The cover to Simonson's first issue heralded a new beginning, with a strange, equine figure dressed as Thor and using the
Thunderer
's own hammer to smash the book's logo to pieces.
As readers would learn within the pages of THOR #337, this figure was Beta-Ray Bill, an alien and one of the few worthy enough to lift Thor's enchanted Uru hammer, Mjolnir. Bill had come to Earth looking for aid in protecting his people, frozen in stasis on an intergalactic journey, from a hoard of demons hot on their tails.
But with both Bill and Thor worthy of holding the hammer, Odin had no choice but to set the two against each other in mortal combat, with the survivor earning the right to carry Mjolnir with him. The two fought to a standstill, yet Bill deemed Thor too brave to perish, and saved him at the last second from falling into a lake of fire.
Immediately, Simonson created a situation where Thor had to prove exactly what made him unique. It wasn't his strength or might alone that defined his character, as in hand-to-hand combat Bill managed to best him. No, what defined Thor was his honor and nobility, as shown when he rode into battle alongside Bill to protect the alien's people from total destruction.
What Myths Are Made Of
With his second story arc, Simonson brought Thor back to his mythological roots, teaming the Thunder God with Eilif the Lost, the last survivor of a Viking community hidden away in Antarctica for centuries. Eilif, by now a frail old man, helped Thor vanquish Fafnir. Eilif was also the fabled last hero of Valhalla, whose seat at the dinner table of the dead Norsemen had never been filled.
Thor helped fulfill Eilif's destiny, and the warrior gained entrance to Valhalla following his death in battle with Fafnir. Bringing Valhalla and Eilif into the story helped to widen the scope of Thor's adventures. More than just a super hero, Simonson reminded us of the character's deep history in Norse mythology. While Thor and Eilif's battle against Fafnir was, in and of itself, not much more epic than any other super hero-super villain conflict, it dramatically changed the tone of the series and, as a result, set the stage for stories of a much wider scale, as we would soon see when the author's "Surtur Saga" kicked into high gear.
Balder the Brave?
Before Simonson would pen perhaps his best-known and most-loved Thor epic, however, he would give readers a brief interlude in
THOR #344
, a story titled "Whatever Happened to Balder the Brave?" At this point, Balder had recently returned from Hel after Loki slew him in THOR #274. Since his return, Balder hadn't quite lived up to his title of "The Brave."
Simonson spent an entire issue rebuilding Balder and proving his mettle when Odin tasks him with a mission to convince Loki into joining forces with Asgard against the powerful threat of Surtur. With this issue, Simonson gave Balder much the same treatment he gave Thor in his opening arc. While the Thunderer remained the central focus of the series, Thor's supporting would gain more prominence, and Balder in particular would be one character Simonson later returned to in more depth when the creator gave him his own limited series.
THOR #337-344 are collected in THOR VISIONARIES: WALTER SIMONSON VOL. 1.
To find a comic shop near you, call 1-888-comicbook or visit www.comicshoplocator.com
Not a subscriber to Marvel Digital Comics Unlimited yet? Join now!
Download SPIDER-WOMAN and ASTONISHING X-MEN Motion Comics now on iTunes! For more information on motion comics, visit the Marvel Motion Comics hub!"
Download episodes of "X-Men: Evolution", "Wolverine and the X-Men", "Fantastic Four: World's Greatest Heroes", and "The Super Hero Squad Show"
now on iTunes!