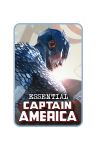 With the release of "Thor" on May 6, 2011 and "Captain America: The First Avenger" on July 22, 2011, Marvel.com presents the Essentials, a series of articles showcasing each character's expansive history and mythology  in the Marvel comics.
From character retrospectives to a look at memorable storylines and interviews with key creators, the Essentials will act as the perfect guide for fans both old and new! Look for new Cap Essentials every Monday and Thor Essentials every Thursday as we head toward the release of each film!

By Marc Strom
Since the earliest days of the Marvel Universe, HYDRA has reared its ugly head again and again. The mysterious organization has clashed with everyone from Captain America and Nick Fury to Daredevil and Deadpool, and on countless occasions they've proven the folly of underestimating their power.
Intent on world domination, HYDRA will stop at nothing to wreak terror on the denizens of the Marvel U and attain their goal. Captain America has shut down their operations several times in his career, but much like the mythical beast from which it takes its name, every time you cut off one of HYDRA's heads, two more take its place.
Now look back at the villainous group's history as we delve further into the Essential Captain America.
HYDRA vs. S.H.I.E.L.D.
Since its inception, S.H.I.E.L.D. has fought against the menace of HYDRA. The evil agents managed to assassinate the leader of S.H.I.E.L.D., paving the way for Nick Fury to step in and begin his long tenure as the peacekeeping force's commander. In his first mission as director of S.H.I.E.L.D., Fury fought a merciless battle against the hordes of HYDRA, apparently gaining victory after defeating the group's leader, Arnold Brown.
However, shortly after that HYDRA agents started popping up once more across the globe. Fury set out to once again squash the menace, only to discover their reach extended further than he ever imagined. Taken captive, Fury came face-to-face with his longtime enemy and the true leader of HYDRA: Baron Wolfgang Von Strucker. While Fury managed to foil Strucker's plan, the two would continuously war against one another, their battle continuing into the present day.
Nick Fury's first encounter with HYDRA took place in the pages of STRANGE TALES #135-140, collected in MARVEL MASTERWORKS: NICK FURY, AGENT OF S.H.I.E.L.D. VOL. 1, and the group resurfaced in STRANGE TALES #150-158, collected in both NICK FURY: AGENT OF S.H.I.E.L.D. as well as MARVEL MASTERWORKS: NICK FURY, AGENT OF S.H.I.E.L.D. VOL. 2.
Extending Their Campaign
As time went on, more and more heroes came into the crosshairs of HYDRA agents and assassins, including the Sentinel of Liberty himself, Captain America. In his first encounter with the serpentine villains, Cap came to blows with the beautiful but deadly Madame Hydra.
The villainess sought to destroy Captain America, and after she sent an armored robot known as the Mankiller against him it appeared as if she had won. Cap fell to his apparent death in the river, leading his friends to give the hero the funeral he deserved. When Madame Hydra and her agents captured the Avengers and sought to bury them alive, Captain America smashed into the graveyard and laid waste to the evildoers. In the end, the incident allowed Steve Rogers to once again maintain a secret identity under the ruse that he had, indeed, perished, and that the Captain America who saved the Avengers was his successor.
The Sentinel of Liberty faced off against Madame Hydra and her minions in CAPTAIN AMERICA #110-113, collected in MARVEL MASTERWORKS: CAPTAIN AMERICA VOL. 3 as well as ESSENTIAL CAPTAIN AMERICA VOL. 2.
A Serpent in Waiting
HYDRA and its offshoots would consistently plague Captain America and the rest of the Marvel heroes in the years to come, but over time the organization lost much of its power base. After returning from a state of suspended animation, Baron Von Strucker sought to once again position HYDRA as one of the most powerful and feared groups in the world. The Baron destroyed HYDRA's undersea headquarters, Ichor, after discovering the Skrulls had infiltrated it as part of their Secret Invasion.
Bringing together the Ruling Council of HYDRA, Strucker once again initiated his personal war with Nick Fury. Simultaneously, Fury discovered that HYDRA had controlled S.H.I.E.L.D. all along as part of a massive conspiracy.
The Ruling Council--consisting of the original Madame Hydra, Viper, as well as the current woman bearing the name, plus Gorgon, Commander Kraken, and the Hive--continue to seek world domination, while Fury and his Secret Warriors fight against them at every turn.
The current evolution of HYDRA began in SECRET WARRIORS #1, collected in SECRET WARRIORS VOL. 1: NICK FURY, AGENT OF NOTHING, and continues in the ongoing series.
To find a comic shop near you, call 1-888-comicbook or visit www.comicshoplocator.com
Not a subscriber to Marvel Digital Comics Unlimited yet? Join now!
Download SPIDER-WOMAN and ASTONISHING X-MEN Motion Comics now on iTunes! For more information on motion comics, visit the Marvel Motion Comics hub!"
Download episodes of "X-Men: Evolution", "Wolverine and the X-Men", "Fantastic Four: World's Greatest Heroes", and "The Super Hero Squad Show"
now on iTunes!

Check out the official Marvel Shop for your favorite Marvel Heroes!