With the release of "Thor" on May 6, 2011 and "Captain America: The First Avenger" on July 22, 2011, Marvel.com presents the Essentials, a series of articles showcasing each character's expansive history and mythology in the Marvel comics.
From character retrospectives to a look at memorable storylines and interviews with key creators, the Essentials will act as the perfect guide for fans both old and new! Look for new Cap Essentials every Monday and Thor Essentials every Thursday as we head toward the release of each film!

Captain America: War and Remembrance

By Jim Beard
The legendary Sentinel of Liberty boasted some of comics' greatest talent during his original run, and high on that lofty list resides the team of writer Roger Stern and artist John Byrne on CAPTAIN AMERICA #247-255.
Though brief, this duo's work on the title still ranks today as one for other creators to aspire to. It not only provided the good Captain with buckets of action and adventure, it also re-set his amazing origin in a clear and definitive fashion. Stern's words and Byrne's pictures: a match forged in the furnace of comic finery.
Hop onboard and listen in as we detail the highlights of these incredible issues.
Tales of Suspense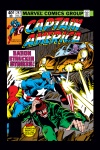 Captain America #247

Captain America saw no rest from the moment Stern and Byrne took over and ran his show. The famous flag-clad hero found himself plunged into a desperate struggle with the villain known as the Machinesmith in CAPTAIN AMERICA #247, an adventure that lasted though #249. Barely escaping that, our hero entered into one of the oddest, most unique moments of his long life: the decision whether or not to run for President of the United States.
You may think it a no-brainer that Steve Rogers would contain all the experience, drive and sheer patriotism to hold the highest office in the land, but ultimately he declined to run. It didn't help that he faced the onrush of a terrorist organization while debating the decision in CAPTAIN AMERICA #250--or that he couldn't get the image of his new neighbor, the beautiful Bernie Rosenthal, out of his fevered brain.
"No respite for the weary" came the rallying cry in CAPTAIN AMERICA #251-252, as Steve wrestled with the combined powers of Batroc the Leaper and Mr. Hyde plotting to blow up New York City. Thankfully, the French felon turned on his pugnacious partner and allowed Cap the opportunity to mop the floor with them. Then, Baron Blood rose to challenge our hero in CAPTAIN AMERICA #253-254, a struggle that brought Cap to the shores of England and plunged him into the fight of his life.
Big-Time Baddies and Beautiful Babes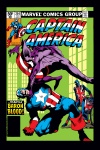 Captain America #254

Bernie Rosenthal entered Cap's life at an interesting time and went on to become one of the more significant ladies in his bachelor existence. A glass artist, she dazzled Steve with her simple charms and impressed him with her verve and spunk. They eventually went their separate ways, but in this Stern/Byrne run, the bloom remains on the rose and the potential for romance filled the air.
In counterpoint to Cap's love life, his adversaries lined up to test their mettle against the vaunted hero and managed to distinguish themselves to a generation of fans. Machinesmith, really Starr Saxon, debuted in DAREDEVIL Vol. 1 #49 and took over the mantle of Mister Fear in #54, but it's as the diabolical designer of robots that he made his mark on Cap fans everywhere. Who else could build a convincing robotic duplicate of Baron Strucker evil enough to fool both Steve and S.H.I.E.L.D. while also enlisting the terrifying Dragon Man in his schemes and plans?
Perhaps it's Baron Blood, vampire, who presented Captain America with his greatest battle during the Stern/Byrne days. A victim of Dracula himself, Lord John Falsworth became the bloody Baron and fought Cap and the Invaders during World War II, then bedeviling him again in modern times. Fortunately, our hero welcomed the help of the new Union Jack and his old ally Lady Jacqueline Falsworth Crichton to aid him in putting the final nail in the particular bat's coffin. In fact, one of the most shocking moments in the Stern/Byrne run arrives when Cap wields his famous shield to behead the undead Baron Blood.
Past and Present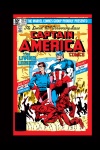 Captain America #255

One of the greatest services Roger Stern and John Byrne provide for Captain America during their short run must be the clean-up and clarification of his origin, as seen in CAPTAIN AMERICA #255. Focusing on his adventures from 1941 to 1942, the duo worked their way through all the diverging paths that had sprung up over the years regarding Cap's origins and laid them out in straightforward manner. To this day, it remains the definitive touchstone for Captain America's creators.
CAPTAIN AMERICA #247-255 may be found collected by interested parties in the trade paperback CAPTAIN AMERICA; WAR AND REMEMBRENCE. We heartily recommend it for anyone who loves solid storytelling and exciting art in their super hero reading.
To find a comic shop near you, call 1-888-comicbook or visit www.comicshoplocator.com
Not a subscriber to Marvel Digital Comics Unlimited yet? Join now!
Download SPIDER-WOMAN and ASTONISHING X-MEN Motion Comics now on iTunes! For more information on motion comics, visit the Marvel Motion Comics hub!"
Download episodes of "X-Men: Evolution", "Wolverine and the X-Men", "Fantastic Four: World's Greatest Heroes", and "The Super Hero Squad Show"
now on iTunes!

Check out the official Marvel Shop for your favorite Marvel Heroes!