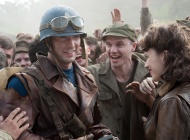 Chris Evans and Hayley Atwell star in Captain America: The First Avenger

Ladies and gentlemen, Marvel fans of all ages, catch a glimpse of Chris Evans, Hugo Weaving and more in "Captain America: The First Avenger" with these awesome pics from the upcoming film!
While you wait for the movie to hit the bigscreen on July 22, 2011, get a taste of all the excitement with these shots of Chris Evans bearing Cap's shield, Hugo Weaving as Johann Schmidt, some wicked baddies on bikes and much more. And if you think these are awesome, Marvelites, you ain't seen nothing yet!
Check out our full gallery of images from "Captain America: The First Avenger" below, and stay tuned to Marvel.com for all the latest on the film as we march towards its release on July 22, 2011!
In addition to "Captain America: The First Avenger," Marvel Studios will release a slate of films based on the Marvel characters including "Thor" on May 6, 2011; "Marvel Studios' The Avengers" on May 4, 2012; and "Iron Man 3" on May 3, 2013.

To find a comic shop near you, call 1-888-comicbook or visit www.comicshoplocator.com
Not a subscriber to Marvel Digital Comics Unlimited yet? Join now!
Download SPIDER-WOMAN and ASTONISHING X-MEN Motion Comics now on iTunes! For more information on motion comics, visit the Marvel Motion Comics hub!"
Download episodes of "X-Men: Evolution", "Wolverine and the X-Men", "Fantastic Four: World's Greatest Heroes", and "The Super Hero Squad Show"
now on iTunes!

Check out the official Marvel Shop for your favorite Marvel Heroes!