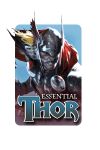 With the release of "Thor" on May 6, 2011 and "Captain America: The First Avenger" on July 22, 2011, Marvel.com presents the Essentials, a series of articles showcasing each character's expansive history and mythology  in the Marvel comics.
From character retrospectives to a look at memorable storylines and interviews with key creators, the Essentials will act as the perfect guide for fans both old and new! Look for new Cap Essentials every Monday and Thor Essentials every Thursday as we head toward the release of each film!
By Matt Powell
In this week's Essential Thor, we take a look at the matriarch and queen of the Aesir, Frigga. As the woman who raised Thor and wife to Odin, Lord of Asgard, Frigga has long played a pivotal if subtle role in the Asgardian court. Now we part the veil to discover what makes Frigga one of the wisest denizens of the fabled kingdom.
The Queen Mother of Asgard
Frigga is exemplified by the ideals of marriage and family. The Queen of Asgard primarily concerns herself with the citizens of her realm--particularly the children and their upbringing in upholding Asgardian principles. In wedding Odin, Frigga accepted both Thor--whose biological mother is the Earth goddess, Gaea--as her stepson, and later the God of Mischief, Loki as her foster son. Frigga also has three biological children: Hermod, Tyr and most notably, Balder the Brave.
Inspiration To A King
To avert the world-ending Ragnarok, Odin cast himself and his Asgardian populace in mortal bodies as Lost Gods who became ignorant of their legacy as immortals. Slowly the Asgardians would feel the echo of their divine lives tug at their hearts and minds, but could not be fully reborn. In her mortal form, Frigga's devotion to the mortal host of Odin was instrumental in encouraging him to face his fear and memories and revive himself as Lord of Asgard. That encouragement would ultimately lead Odin to restore all the Lost Gods scattered across Midgard back to their immortal forms.
Frigga encouraged Odin to regain his identity in JOURNEY INTO MYSTERY #512, soon to be found in the THOR: THE LOST GODS collection, on sale March 16.

Frigga's Son, Balder
It was a shame that the true origin of one of the most loyal citizens of Asgard would remain a secret for years. Together, Odin and Frigga had the young Balder. Naturally, with the birth of a male child Odin's thoughts turned to that of his legacy and who would rule in his passing. Troubled by dreams of seeing the adult Balder perishing with Asgard in his wake, Odin sought answers to his visions. Odin learned from a prophetess that if Balder died at the beginning of Ragnarok, he would be reborn and spawn a new race of gods to rebuild Asgard. However, if Balder died before Ragnarok, the lineage of Odin and Asgard would be gone forever.
Strategically, Odin knew if Balder was revealed to be his son he would perpetually be a target with the fate of Asgard hanging in the balance. In order for his kingdom to survive, Odin chose to distance himself as a father from Balder, but kept him close in his royal court. Frigga's compassion for her son also led her to craft powerful spells to protect Balder from harm and avert the tragedy.
Balder learned the truth of his origin in THOR Vol. 3 #10, collected in THOR BY J. MICHAEL STRACZYNSKI VOL. 2.