UPDATED AUGUST 1: Check out even more reviews directly below!
You have to wait a few more days to see Marvel's "Guardians of the Galaxy" when it hits theaters this Friday, August 1, but now there are even more reasons to be excited! Reviews have started coming in from critics around the galaxy and feature overwhelming praise!
Check out some reviews that highlight the spirit of adventure, the amount of laughs, and abundance of heart found in the movie, and
get your tickets
for "Guardians of the Galaxy" now! Plus, make sure to follow
@Guardians
on Twitter and like
Guardians of the Galaxy
on Facebook for all the latest news.
"This is the summer blockbuster we've been waiting for." –
Gizmodo
"'Guardians of the Galaxy' does the impossible. Through dazzle and dumb luck, it turns the clichés of comic-book films on their idiot heads and hits you like an exhilarating blast of fun-fun-fun. It's insanely, shamelessly silly – just one reason to love it." –
Rolling Stone
"It pulls off the difficult trick of combining sprightly self-satire combined with that operatic self-belief that superhero stories need." –
The Guardian
"…there's room for jaw-dropping and innovative action, beautiful visuals, robust characterizations and more laughs than probably all the other Marvel movies combined." -
/Film
Marvel's Guardians of the Galaxy - Clip 1
"To see an expensive, big-studio movie freed from creative constraints and directorial cynicism is always a rare and wondrous experience. In a season of bloated indulgence, it's also fair to call it a marvel." –
New York Daily News
"…give Marvel props, even with all of its mega-success; the studio's still willing to take chances. Here, that risk pays off big-time. The film's a giddily subversive space opera that runs on self-aware smart-assery." –
Entertainment Weekly
"It manages the trick of being both an unironic sci-fi action-adventure flick and a zippy parody of one. It's exciting, funny, self-aware, beautiful to watch and even, for a flickering instant or two, almost touching." –
The Washington Post
"Gunn's film leaves you with the same feeling of childish wonder as seeing sci-fi for the first time." –
NME
"'Guardians' is right up there with the very best Marvel has made--bold, brash, fast-paced and action-packed, not to mention the funniest blockbuster in ages." -
IGN
"Overall, the writers have crafted a well-articulated universe with distinct settings and relatable, compelling characters devoted to a thrilling quest for redemption." -
The Hollywood Reporter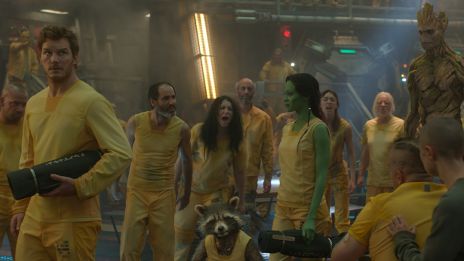 Peter Quill (Chris Pratt), Rocket, Gamora (Zoe Saldana), and Groot in Marvel's Guardians of the Galaxy
"I don't think I've seen a more enjoyable, exciting, and FUNNY sci-fi movie, maybe ever." -
Nerdist
"...
overall this is giddy, ridiculous fun, a witty, wacky and wonderfully generous sugary gift of a film. Marvel, you shouldn't have!" - TimeOut

"Take the Dirty Dozen, subtract the Magnificent Seven, and you'll roughly get the membership of 'Guardians of the Galaxy,' a surprisingly winning space-faring adventure with a group of Marvel Comics characters led by

Chris Pratt

in a breakout action-lead performance." - The Wrap

"It's a scrappy, smart-alecky space opera with a heart, and probably the most fun to be had in a movie theater this summer." - The Oregonian

"The unexpected, the eccentric and a very welcome sense of joy are experienced in practically every scene, but they're grounded in smart, winking humanity...even from the rodents and plants. It's a spectacularly entertaining space opera and a guffaw-worthy comedy. It's a thoroughly pleasing ensemble piece with a great cast, amazing visual effects and exciting action. It's certainly one of Marvel's best movies, and quite possibly their most fun." - Crave Online

"It's a big call, but I'm happy to make it: 'Guardians Of The Galaxy' is the best Marvel movie made to date. It has more laughs, more action, more pew-pew and more story than any film before it in the Marvel universe." - Gizmodo Australia

"

P
ossibly one of the funniest (and strangest) Marvel movies yet, James Gunn and his cast deliver an infinitely entertaining space opera that's really something quite special." - ComingSoon.Net

"[Director James Gunn] succeeds brilliantly, establishing the team and crafting a rollicking adventure movie that veers between origin story, heist flick, and epic space fantasy, with plenty of humour thrown in. On top of all that, each of the members gets enough focus to establish their histories and personalities in viewers' minds, without resorting to lazy exposition. It's a remarkable achievement." - Wired.co.uk

Total Film

"Pratt hooks the viewer from the moment you see him enter the screen throwing on a retro set of headphones, putting on an old school Sony Walkman, and freely dancing to Redbone's 'Come and Get Your Love' across a wide open set like a goofball. It's one of the most satisfying, feel-good openings to a film I've seen in a while." - Business Insider

"Marvel's new sci-fi fantasy is a near-perfect mix of action, humour, imagination and wondrous special effects. Most of all, it is great fun." - Daily Record