By Kevin Mahadeo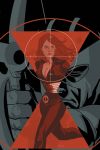 WIDOW MAKER #3 cover by Phil Noto
Eagled-eyed Avenger Clint Barton notches his bow next month for the four-issue limited series HAWKEYE: BLIND SPOT by writer Jim McCann and artist Paco Diaz.
When the Dark Reign ended and the Heroic Age dawned, McCann began HAWKEYE & MOCKINGBIRD alongside artist David Lopez. The title focused on the one time husband and wife as they attempted to rebuild their relationship while partaking in espionage related action and adventure. Most recently, McCann and writer Duane Swierczynski teamed the duo with the Black Widow for WIDOW MAKER, the third issue of which hits stores this week. The tag-team title pits the trio of Avengers against the mysterious Black Ocean Society, led by a brand new Ronin who holds some sort of connection to Clint and Bobbi.
The upcoming BLIND SPOT continues McCann's adventures with Hawkeye and Mockingbird, picking up after the impending finale of WIDOW MAKER. Despite being stuck in Atlanta due to the recent snowstorm that hit the Eastern United States, McCann took some time to talk about the finale of WIDOW MAKER, the launch of BLIND SPOT and his concerns about causing real-life political breakdowns between Russia and Japan.
Marvel.com: Jim, the upcoming issue of WIDOW MAKER reveals the identity of the new Ronin. What was it like shaping this character and the Dark Ocean Society?
Jim McCann: When we were coming up with ways that Black Widow and Hawkeye and Mockingbird could interact, there were all sorts of potential missions [and] things that could go down between them. I threw out a couple, but then I also threw out, "Let's reveal the origins of Ronin. Where the name came from and also introduce a new Ronin." I think it's a cool concept and I wanted to throw somebody in there that was relevant to the Marvel Universe and especially to the characters that are in play. You'll find out in issue #3 what Ronin's motivations are in addition to who he is. All we know so far is that he appears to be male and he seems to be very ruthless and very determined to start a war. He's also surrounded himself with the new Dark Ocean Society. I actually did a lot of research for this in Japanese spy craft and secret societies. The Dark Ocean Society in Japanese is actually called Genyosha, but we couldn't call it that in Marvel because we have something called Genosha and it might confuse everybody. [Laughs] It was built up and comprised of disenfranchised samurai, so it made perfect sense that samurai who left their way of life would then be led by a Ronin.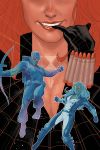 WIDOW MAKER #4 cover by Phil Noto
Marvel.com: So, wait, the Dark Ocean Society is actually based on a real thing?
Jim McCann: They existed from the 1800s all the way up to World War II. They're known as being the genesis to the Yakuza as well. We'll see how far reaching this society is [in the comics] and what its goals are as well as Ronin's and how they both match up. I'm hoping that both the new Ronin and the Dark Ocean are characters and concepts that will stick around for a while, so when Marvel characters visit Japan they don't have to just fight the Hand. [Laughs] They can fight this secret society, this group of very ruthless spies and assassins.
Marvel.com: It's pretty cool that you did all this research into this real-life secret society, but now I wonder if you've maybe upset the wrong people and ninjas might be after you…
Jim McCann: What's really interesting is that it was revealed really early on that there is great strife in this story between Russia and Japan based on the Kuril Islands, which are these disputed islands to the north of Japan that Japan occupies but Russia claims as theirs. It's been hotly contested back and forth and I came up with this story a while ago. Literally, the week that WIDOW MAKER #1 came out, talks broke down between Russia and Japan in real life over the Kuril Islands. We had already sent WIDOW MAKER #1 where it's the brink of war between these two nations. So, yeah. I hope I didn't fan the flames of any international incident. And I'm really, really not going to answer the door [for] any ninjas.
Marvel.com: Good call. From what you've said so far, it sounds like whoever is under the Ronin mask is a character readers have seen before.
Jim McCann: When it is revealed, it is somebody that has resonance with the characters as well as with the fans.
Marvel.com: What was it like putting together that issue with the big reveal?
Jim McCann: Issue #3 was a whole lot of fun to write, but it was also kind of sad personally because it was my last issue working with David Lopez. My whole full-time writing career has been with David Lopez. David and I were comic book spouses for a while, so it's very strange to have written that last page. And I threw everything at him, too. "This is our last issue together, so I'm making you draw as much as humanly possible and as much as I've ever wanted to see you draw." [Laughs] There are two or three pages where he sent me pictures of himself frowning and pointing to a picture of
HAWKEYE: BLIND SPOT #1 cover by Mike Perkins
me. I almost thought he was going to burn me in effigy. But then when he turned the pages in, these are images fans are absolutely going to go crazy for. And the cliffhanger to issue #3 is something I don't think has ever been done before. Duane knew it was coming, but I don't think he knew how. We've had fun setting the stage for each other, so the deathtrap is sprung in issue #3 and now I get to sit back and watch Duane try and figure out how to get our heroes out of it. So, yeah. It's been a lot of fun, and working over with Paco Diaz on BLIND SPOT is shaping up to be amazing. As difficult as it was for me to adjust at first, I found that I'm absolutely falling in love with working with him and his art style. I think fans are definitely in for a treat for that. It's the story I've wanted to tell since I found out I was getting the chance to write Hawkeye.
Marvel.com: Perfect transition because I wanted to hit on BLIND SPOT. What can you say about this story and your plans for Clint?
Jim McCann: You can read all of WIDOW MAKER, which I hope you are, but BLIND SPOT is the perfect jumping on point for anyone who has had any interest in Clint. Passing interest, long time interest, people who [were fans] of HAWKEYE & MOCKINGBIRD, who have never picked up a single thing I have written or who are now finding out about him from the cartoon "Avengers: Earth's Mightiest Heroes!" BLIND SPOT is the story that will show the world why Hawkeye is so cool and it is also the story that sets up Hawkeye and changes his life and sets him up in the direction that he will be taking for quite some time.
Marvel.com: You know, you've been working on this character for some time now. Is this it for you and Clint and Bobbi? Or do you have more stories to tell in the future?
Jim McCann: There's always a possibility. I could write these two, honestly, for the rest of my life. Hawkeye is my favorite character, but I think he's also one of the characters that best embodies the Marvel Universe as much as Peter Parker does, in his own way. Peter has "with great power comes great responsibility." Clint has "with great work and effort, comes great power." He has no powers. He's fallible. He can falter and he can fall. But he picks himself back up and makes himself stronger. There's so many places that I would love to take him. And I think he's going to be a really popular character after the Avengers movie. I mean, that doesn't hurt. [Laughs]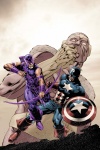 HAWKEYE: BLIND SPOT #2 cover by Mike Perkins
Marvel.com: You said Clint's your favorite character, but for those that know you, I have to now ask: How does Dazzler feel about that?
Jim McCann: He's my favorite male character. My favorite non-mutant. [Laughs] The last thing I want to say about BLIND SPOT is that you haven't really seen Hawkeye in this situation before. There are big villains. There are big reveals. There are big challenges. And there are big repercussions. This is a very big story and I'm very lucky to be able to tell it. You're going to see some really, really great artwork. Some exciting fights and develops and it really gives me the chance to get into the psyche of Clint Barton. I've spent a lot of time inside Mockingbird's head, but we haven't gotten a chance to get inside Clint's head. So for people who want to see what's going on with Clint inside and out, and who want a badass action story, this is full on action, emotion and anything you can want in a Marvel comic and then some. And that's not hyperbole. That's a promise.
WIDOW MAKER #3 goes on sale tomorrow, Wednesday, January 12. HAWKEYE: BLIND SPOT begins in February.