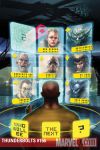 THUNDERBOLTS #156 cover
By Jim Beard
Things have certainly been heating up in the pages of HULK as writer Jeff Parker's "Scorched Earth" saga grows so big that another Marvel title steps up to help out: THUNDERBOLTS!
It just so happens that both books come under the watch of Parker, and both feature more fun stuff than you can throw a gaggle of Gamma Goliaths at! HULK #30 and THUNDERBOLTS #153 not only continue the story but also introduce more new cast members, more new characters, more new situations and more! Did we mention more?
We checked in with Parker for the lowdown on these two titanic titles, the return of artist Ed McGuinness and—Woodgod?
Marvel.com: In THUNDERBOLTS #153, Hyperion joins the team. Why this character? What does he have to offer the T-Bolts as a member and you as a writer?
Jeff Parker: Hyperion has a cape. Seriously, we've [needed] someone with a cape on this team. Also he has a personality big enough to match his world-smashing power, and that's the key ingredient for a Thunderbolt.
Marvel.com: How will the Thunderbolts react to Hyperion? You say he's a powerhouse; what does that do to the power balance in the book?
Jeff Parker: It throws the balance way off, and that's where the real story is—though the team fighting giant monsters in Japan is also important! I think it will help define how the rest of the team [sees] their relationships with each other.
Marvel.com: How does THUNDERBOLTS #153 tie into "Scorched Earth"? How much would one have to know about the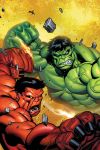 HULK #29 cover
Hulk-verse going into this story?
Jeff Parker: Readers really don't have to be following HULK, but I've been quietly connecting the books for a while now. In a recent HULK, Bruce Banner contacted Fixer and Songbird at the Raft because he wanted to question The Leader, who is being held there. The Thunderbolts are going after a loose end from the "Scorched Earth" story, but we've implied that they've had to help with it earlier. Their original mission in the recent double-sized issue was supposed to be a Scorched Earth task, if you remember what Luke Cage was saying.
Marvel.com: Let's talk HULK #30: The Hulk and Xemnu the Titan go way back; how would you quantify their relationship at this time? What's the Titan's main role in this story?
Jeff Parker: Xemnu likes to conquer worlds, he's incredibly powerful and can control the minds of masses. But the Hulk is also very powerful and resists his mind control. So they always butt heads. Also Xemnu is probably sore because he was the original "Hulk" back in JOURNEY INTO MYSTERY #62.
Marvel.com: We're also told that Woodgod shows up in HULK #30. He's something of an obscure character that's existed on the fringes of the Marvel Universe for many years. What's the attraction to the character for you? What makes him interesting to use?
Jeff Parker: He's just such a bizarre choice; he arrived in that period of the 1970's when everyone was really into supernatural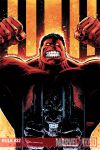 HULK #32 cover
stuff. The idea that he'd work as a lead in a comic—MARVEL PREMIERE #31—seems pretty out there. And yet, all the most "out-there" stuff from Marvel tends to work in HULK. So in he goes!
Marvel.com: Woodgod and Hulk met way back in MARVEL TEAM-UP #53-54, so might that original meeting be touched upon here? And does Woodgod still spout the praises of "scream"?
Jeff Parker: No, because Woodgod is meeting Red Hulk this time. Woodgod will definitely shout "Father!" which seems to be his battle-cry.
Marvel.com: That brings us to the reports that a "Compound Hulk" also appears in the issue. One might guess what that might be like, but what's the deal on him? Friend or foe—or something else?
Jeff Parker: Compound Hulk, with more Pounding! He's like peanut butter and chocolate slammed together, the way people used to do accidentally all the time before peanut butter cups were prevalent.
Marvel.com: Sounds like we'll just have to read the book! Especially since artist Ed McGuinness guest-stars as well! What's the single, coolest thing about McGuinness being back for you?
Jeff Parker: There is nothing so insane that Ed will not run towards it. Really he plotted quite a bit of the issue, he had some great ideas and jokes and I was able to get almost all of them in. He also draws the best Impossible Man, wait until you see Impy. It's a ridiculous amount of fun. And fighting.
HULK #30 and THUNDERBOLTS #153 will both crash into stores on February 16!