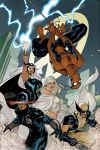 X-MEN #7 cover by Terry Dodson
By Kevin Mahadeo
After fighting off a legion of vampires on the West Coast, a visit to East Coast should prove a bit more relaxing for the X-Men in theory. Unfortunately, writer Victor Gischler seems to disagree, because with the start of the second arc of X-MEN in issue #7—on sale now—the mighty mutants head off on a sewer-diving adventure in New York City with the Amazing Spider-Man.
"Protect and Serve" begins a new era for the X-Men, one less of separatism and more of heroism. Since the events of M-Day—when the Scarlet Witch uttered the fateful words "no more mutants"—the X-Men as a whole and Cyclops specifically have fought to keep their species alive. Most recently, however, the threat came from somewhere wholly unexpected: a legion of vampires led by Dracula's son Xarus. The ensuing war between mutants and undead left one X-Man forever changed as Jubilee remains a bloodsucker.
After a blockbuster opening story featuring almost all the X-Men, Gischler's second tale takes a more centered focus on a smaller group, who head to NYC to investigate a series of mysteries alongside comics' most famous web-swinging hero. The writer took some time out of charting the New York sewer system to discuss the upcoming storyline, the humor of Spider-Man and the endless possibilities of the X-Men.
Marvel.com: As we start, I wanted to ask a transitional type question: moving into this new arc one of the big things we have is Jubilee still as a vampire. Will we be seeing how that's affecting her and the ramifications of that?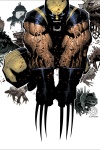 X-MEN#8 cover by Chris Bachalo
Victor Gischler: Yes and no, I would say is the answer to that. We are definitely going to see ramifications but maybe not immediately and not all in this arc. We left off with Jubilee in the hands of the X-Men at the end of "Curse of the Mutants" and they were figuring out, "What are we going to do with her? She's one of us, but we can't just let vampire Jubilee run around on her own." We are going to circle around and see Jubilee a little bit more in the future, but just recently WOLVERINE & JUBILEE #1 came out and that really picks up where we left off. We see that address the issue of what's Jubilee's life going to be like now. It's cool. I picked up the issue and read it and really liked it. In the pages of X-MEN we will touch on Jubilee—she's not just going to vanish—but I highly recommend that people who want to know what's happening with Jubilee go get that [series], definitely.
Marvel.com: Well, looking at this upcoming arc, we know the X-Men head to New York and team with Spider-Man, but we're a little vague on the why. Can you divulge some of those mysteries?
Victor Gischler: Well, I don't want to give away too much because obviously spoilers are no fun, but I will say that we are picking up and maybe tying up a loose end from a previous Spider-Man story. That's one of the reasons why we go to New York and one of the reasons why Spider-Man is an important part to the story arc. The X-Men find out something is going on in New York and no one seems to be handling or addressing it. One of the new mission statements of the X-Men is that they are going to engage the Marvel Universe more and be heroes. So, when Cyclops sees that there's this situation brewing, he dispatches a team to go in and check it out. Of course, they run into Spider-Man along the way and the story goes from there. We see at least one surprise face. People might guess what's to come. Some smart readers might see what's on the way, but I think there's at least one surprise face as we get into the story arc.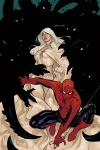 X-MEN #8 cover by Terry Dodson
Marvel.com: The first arc was a big X-Men story with many players involved. This arc sees a smaller group of characters. Can you talk about who you'll be using?
Victor Gischler: "Curse of the Mutants" was a bigger kind of event and it was all hands on deck. For this particular mission, we're scaling it down a little bit. Cyclops puts Storm in charge and says, "Take some people with you and go." Storm takes Gambit and Wolverine and wants to go handle this mission, but then Emma Frost says, "Oh, New York. That sounds like a good shopping opportunity." So she invites herself along. We have a team of four, and that's a little more of a tight unit, a strike force, for this mission.
Marvel.com: What went into the decision for you to use those characters?
Victor Gischler: When I started outlining the story, I had at least one different character in mind, but I won't say who. But it's interesting because when I decide who is going to be on the team, I have to be flexible; the story might demand we have a different character because their powers or their background might match up better. So, sometimes I go in intending to use certain characters, but then I get into the actual story and the particulars and I say, "You know what? We need this other character instead." Emma Frost wasn't going to be in this originally, but then it seemed there were some opportunities if she did go. Living in South Louisiana, Gambit is sort of a hometown pick. He needs some more face time. And Wolverine, I know he's in a lot of books, but he's just cool. And those claws; he solves a lot of problems with those claws. Storm, she's a good leader and she needs some more face time as well I think. Also, Storm and Emma have a little bit of history and they get along okay mostly, but it's an opportunity for some fun banter between them.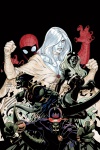 X-MEN #9 cover by Terry Dodson
Marvel.com: In regards to Storm and Emma, they have a weird friendship, but there is some history as well, especially with the Hellfire Club back in the day. Does that still affect them or has it been so long that they're kind of over it emotionally?
Victor Gischler: At least for this arc, it doesn't affect their abilities to do their jobs because they're professionals. But it does provide for some entertaining character interaction. They're X-Men. They're a team. But they're not necessarily best friends all the time, and Storm and Emma are an example of that. That's just fun. It's fun to have that sort of dynamic because it makes for some interesting dialogue and interesting dynamic between the characters.
Marvel.com: Speaking of character interactions, Spider-Man is always fun when he interacts with, well, just about anyone. How is it writing Spidey and how are you approaching the humor element of the character?
Victor Gischler: Spider-Man's humor, it always seemed to me, was a humor of opportunity, by which I mean that he plays off of what people give him. Somebody else will do or say something and he will play off of that. I think the more Wolverine scowls and acts tough, the more Spider-Man would want to make a joke about it. That's all part of it, too. You can't write Spider-Man without having him cut some wisecracks and so forth. What's interesting is that there are some serious moments in the story arc because we're dealing with some old Spider-Man business. Because of that, there are some solemn moments where I had to go and restrain him from making wisecracks because they were inappropriate in the story. But there's just a few of those moments and we have him being Spider-Man and having him say things Spider-Man will say.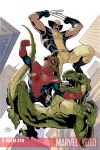 X-MEN #10 cover by Terry Dodson
Marvel.com: A few people might think that teaming Spider-Man and the X-Men is random, but really, when you think about it, the classic X-Men stories had them all over the Marvel Universe teaming with other heroes and going on adventures all over the galaxy. It seems like this is in the vein of those classic X-Men stories.
Victor Gischler: I think you're right and I think people are going to appreciate that. We've had plenty of great stories where the X-Men defend themselves from the world and from persecution and that have provided a lot of great fodder for a lot of great stories. But we're not doing that anymore. We're going to be proactive. New York is a perfect example of that. But they can go anywhere and do anything. That's what makes this an exciting book. We're only just getting ready to start our second arc, so there [are] a lot of possibilities for them to do all kinds of things. It's exciting to think about the possibilities.
Marvel.com: That's a perfect point to close off on because I wanted to ask, what are some of those possibilities that might become realities? What are some upcoming storylines for X-MEN?
Victor Gischler: I don't want to plant any seeds that will not end up coming to fruition, but I will tell you that the next arc that I'm planning, I'd like to do something where I get them out of the city and into the desert or the tundra, just for a change of scenery. I know that's not very specific, but that's how I'm thinking now. It goes back to your previous question about the X-Men being able to go anywhere and do anything, so I'm starting to think about varied scenery and varied settings—where they can go and what they can do. That's how I'm approaching this next arc and future arcs; what are the possibilities?
X-MEN #7 is on sale right now!