By Kevin Mahadeo
You might think that delving into the mind of a madman could potentially drive you insane. However, for writer Kelly Sue DeConnick, channeling her inner psycho in the current five-issue limited series OSBORN actually proved somewhat terrifyingly easy.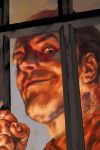 OSBORN by DeConnick and artist Emma Rios follows up on the eldest member of the titular family after his arrest at the end of the Siege event. The story opened on Norman in prison but not yet formerly charged for his multiple crimes against the country and humanity. Fearful of a possible acquittal or plea of insanity, two senators—Sondra Muffoletto and Bill Morrison—covertly arranged for Osborn's transfer to a secret underground facility known as the Special Containment Center. However, unknown to Muffoletto, this played right into the plans of Morrison, a member of the "Goblin Cult" that supports the villain's vision of the world. A jailbreak and riot quickly occur, and utilizing his skills as a leader, Norman now guides a group of his fellow inmates toward freedom.
Along with the eponymous lead, the limited series also focuses on reporter Norah Winters. Previously, during the "American Son" storyline in AMAZING SPIDER-MAN, Norah attempted to publically expose Osborn by going undercover. Ultimately, she ended up killing the story after the villain threatened her life via video. The encounter left an emotional scar on Norah, but when her editor gives her an assignment that checks up on her tormentor, she finds a chance to redeem her journalistic and personal pride.
As she continues her journey into insanity, DeConnick took a break to discuss the title so far, her plans for the final two issues and what Norman Osborn and Bruce Banner have in common.
Marvel.com: So far, you're three issues into OSBORN with the fourth issue coming in a couple weeks. What's it been like so far working with Norman Osborn? Are you feeling his crazy seeping over to you?
Kelly Sue DeConnick: Man. Everybody asks me that—or, like, if it was hard to get in his head. Maybe I should worry about my psychological well-being because I like Norman. I don't have any trouble "getting in his head" and I will miss him terribly when we go our separate ways. His voice comes very naturally to me, if I may be so bold. Someone's going to call children's protective services on me now, I can feel it.
Marvel.com: When you came onto this title, how did you prepare yourself?
Kelly Sue DeConnick: I didn't really do anything besides re-read [Warren] Ellis' and [Brian] Bendis' takes on the character. Wait, I did kill that one blonde girl but, in fairness, I was going to do that anyway.  
Marvel.com: Now I'm a little scared. Now that you've spent some time with him, have your feelings or how you saw him changed at all?
Kelly Sue DeConnick: Norman's got a code, you know? He's not chaotic evil. He's got his own kind of ethics. They just don't jibe well with yours or mine or other non-psychotics. What does it feel like to wear Norman's skin? You go to a strategizing place, I guess. Everything is politics, everything is about power. You turn off your empathy and you assume everyone thinks the same way you do—they're just nowhere near as good at it. You embrace your own narcissistic personality disorder.  
Marvel.com: There's a concept that's been brought up a few times in previous issues: this idea of striking when the moment is right. Do you think that ideology is a defining trait for Norman?
Kelly Sue DeConnick: I think waiting is, on the contrary, something that doesn't come naturally to Norman at all. But he's trying to improve himself.
Marvel.com: I really liked how in issue #3 you saw Norman's Goblin side come out. It sort of reminded me of The Hulk, only more controlled. Norman knows he has this crazy power inside him, but unlike Bruce Banner, he uses it to his advantage. Is that sort of what you were going for?
Kelly Sue DeConnick: It is indeed what I was going for. For my Norman, the Goblin is another tool in his arsenal, but one he must learn to control, [or] else it works against him. The problem is—and this is not something that I've spelled out, but it's something you could figure if you were familiar with the character—that one way Norman controls the Goblin is through his meds. Guess what they don't distribute during a jail break? It hasn't been long enough to make any difference at this point, but the more time that passes and the more adrenalized he is, the harder it'll be for him to keep the Goblin in check.  
Marvel.com: Looking at the character of Norah, where did your inspiration for writing her come from? I've worked in a newsroom before and have a few friends in journalism and she definitely reminds me of a few of them in her mannerisms and personality.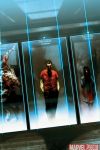 Kelly Sue DeConnick: Isn't she fascinating? It's funny, people seem to love her or hate her. I've read some nasty things said about her on message boards. I know, I know, I shouldn't be reading message boards. What can I say, the flesh is weak. Also: I'm writing a narcissist. Extrapolate accordingly. I've seen her called…unflattering things because she flirts with Peter, who is in a relationship. Seriously? Let me clear some things up for you, my little troglodyte: people flirt. It's okay. Mommy and daddy still love you. Also? Norah is not trying to bed Peter. Norah is trying to embarrass Peter. Why? Because it's really, really easy to do. And it's funny. And Norah, bless her, may not be the most mature young woman who ever slurped a noodle. I don't write perfect people.  I've never met one.  
Marvel.com: Norman's crew—June, Ai Apaec, Pryor Cashman and Xirdal. Who is your favorite of the bunch?
Kelly Sue DeConnick: Who's my favorite? Aw, that's terrible. That's like picking a favorite child! It's June. No question. Ai's a close second, but as June's easily the craziest of the bunch, she has my heart. 
Marvel.com: I've seen you mention that each one of the issues in the limited series has a theme to it: patience for the first, action the second and leadership in the third. Can you talk a little about that and coming up with the themes for each issue?
Kelly Sue DeConnick: It was just an effort to help me structure the story, to help me keep moving forward as I was writing. I always have to play games with myself to keep the momentum up. Sometimes it's something as simple as a word game, but most of the time it's hammering my head up against "What is this about?" I always want my stories to have a point of view. I want them to saying something, even if it's in the form of a question.  Does that make sense? Maybe that's pretentious? It is?
I'm not sure. As a writer and as a reader, I look for stories that give me things to turn over in my head. That doesn't mean they have to be particularly serious—I mean, I'm not Camus. I love me a good fart joke, but I want there to be something more going on than plot. I get really bored if I'm just moving dolls around a dollhouse. I just reread that. Pretty pretentious. Whuu-oh.  
Marvel.com: To close out, going off of the previous question, what are the themes for the final two issues and how does that play into what readers can expect to see in the coming issues of OSBORN?
Kelly Sue DeConnick: Four is faith.  Five is courage. You can expect Norman to make not one but two very difficult decisions. I wonder what kind of decision would be difficult for Norman Osborn...
OSBORN #4 goes on sale February 23