By Chris Arrant
Regardless of the climate of the Marvel Universe at large, the X-Men will always stand apart as heroes born with powers but also ostracized because of it. In UNCANNY X-MEN, writer Kieron Gillen takes the team headlong into the Heroic Age while in GENERATION HOPE he looks at the future for the next generation of mutantkind.
In GENERATION HOPE #7—on ale tomorrow, Wednesday, May 18—Hope and the Five Lights cover the In Utero ignition of the world's next mutant in a horror hospital drama. And on May 25, the mutant bastion of Utopia plays home to a full-on alien invasion inside the pages of UNCANNY X-MEN #537.
Seated at the head of the X-Men table, Gillen shed some light on the future of the two titles, as well what he finds unique about the mutant condition.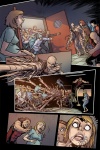 GENERATION HOPE #7 preview art by Salva Espin
Marvel.com: The ignition of mutants as Lights seems far different from the way X-Men would discover mutants before. Can you boil down how becoming a mutant is different in the post-House of M era, specifically for GENERATION HOPE?
Kieron Gillen: Mutant emergence simply isn't working properly. The appearance of a mutant's powers was never easy, and occasionally something went wrong. Now, every single emergence goes wrong. Every mutant "birth" requires medical intervention.
That's what Hope and her team of Lights are for. Hope's touch stabilizes them. She's the midwife of the mutant race.
Marvel.com: In GENERATION HOPE #6, we could see each of them noticing a new mutant on Earth telepathically before the X-Men's mutant detector Cerebra picked it up. How does this enhanced connection between the new members of the mutant race work as a bond with Hope and the Five Lights?
Kieron Gillen: Good questions and the characters would love if you gave them an answer. There's clearly some kind of bond between them all. We've seen information transfer. We've seen it tweaking characters' behaviors. And the characters are increasingly aware of it, and worrying about whether it's benign or something more sinister. Or both.

Marvel.com: In the current story arc "The Ward," you're presenting a new mutant who has lit up even before birth—still in the womb, but somehow controlling an entire hospital with its base needs. How'd this come to you, and how has it been to interject this horror-genre like treatment into a super hero book?
Kieron Gillen: When editor Nick Lowe first mentioned doing GENERATION HOPE, I had to head off on a train journey to Wales. I spent the time scribbling random ideas for mutant appearances in my usual cryptic scrawly-crazy-guy fashion. I'm the guy on public transport, mumbling to himself, making everyone else think he's communing with his gods or something.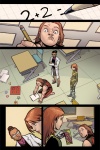 GENERATION HOPE #8 preview art by Salva Espin
The 'In Utero Mutant' was one on the list. I even briefly [it] discussed as being one of the original Five Lights, but it really was just too disturbing. "Disturbing" was a theme running across all those ideas, as I suspect I was just interested in the nature of mutants. Mutants aren't just super heroes. It's not like wearing a suit or getting trained by the government. Becoming one would almost certainly be scary beyond belief. That led me to body-horror, which is one of the main themes of GENERATION HOPE.
The main inspiration for the character specifically actually came from a number of my female close friends' worries about pregnancy. Specifically, seeing some of their friends seemingly disappear as they have a child; seeing people who were once their friends just seem to become mothers, and nothing else.  And, as they headed into their own pregnancies, just being tentative, asking "Am I going to disappear?

Marvel.com: In a short amount of time, you've clearly defined the key personalities of the team. Working on an ensemble book like this, what kind of thoughts and processes go through your head as a writer to write a team of characters effectively?
Kieron Gillen: Well, I was working with Matt Fraction in generating the characters, so there was a lot of back and forth there. Matt had five he was considering; Laurie and Gabriel remained pretty much as he originally conceived them. Teon was Matt's idea which I then ran crazily with, to a degree which only really becomes apparent in the next few issues. Idie was on the original list, but almost everything about her changed when I brought in the 'Nigerian Witch Child' elements. And there was a Japanese character, but all that remains of her is that Kenji is from Japan. Not even her gender. Kenji was pretty much all mine.
But when you're thinking about them as a group, you're thinking about necessary interactions between them. If you've got characters fulfilling a similar role in terms of their personality, one of them is extraneous.  The core three are Laurie, Gabriel and Kenji. They're the most verbal characters. Even Hope, despite talking a lot, isn't verbal. Hope doesn't chat. She gives orders. She doesn't often talk about how she feels. In some ways, she's just as closed off as Idie is. In which case, you're relying on the three to explicitly express most hopes and fears, as well as sneaking any necessary exposition.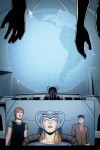 GENERATION HOPE #9 preview art by Jamie McKelvie

Gabriel is an interesting example just because he's the surface-level shallowest and clearly takes great joy in being superficial. Talking about dramatic purposes, Gabriel is the necessary irritant. Him making a joke or insulting a character or even just mildly flirting provokes a response we wouldn't see normally see. That's extremely useful. If characters aren't interested in expressing themselves, it's hard to have a comic.
Obviously, Idie is the trickiest. She's the most closed-off character, who clearly thinks and feels a lot; I started with her narration in the first issue pretty much to make that clear, but she needs a lot to make her actually express it.
Marvel.com: With this issue, Kitty Pryde has replaced Rogue as the liaison for Hope's team. What do you think supervising this team will bring out in Kitty?

Kieron Gillen: Screaming, mainly.

Marvel.com: With issue #9, your long-time collaborator Jamie McKelvie is joining you for a special issue titled "Out, Out." What can you tell us about that?

Kieron Gillen: Issue #9 is a tricky one to talk about. What I've been saying is that if I stayed on GENERATION HOPE for year upon year, if people were forced to save a single issue from the run from a fire, it'll be issue #9. It's a stand alone. It's directly emotional. I think it's one of the best things I've done for Marvel.
It's grim as hell.
Marvel.com: Overall, what would you say people can look forward to coming up in GENERATION HOPE?
Kieron Gillen: The last issue Jamie did with me, #5, ended with the team striding off confidently, with Gabriel's blasé belief they can't fail. I felt for the characters then, because I knew what was ahead of them. We've got the team together. Now we test it to possible destruction.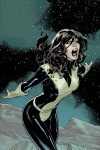 UNCANNY X-MEN #537 cover by Terry Dodson
Marvel.com: Jumping over to your other X-title, UNCANNY X-MEN, after co-writing with Matt Fraction for the "Quarantine" story arc, you took on the full reins with #534.1 and now onto your first solo story, "Breaking Point." It seems you're joining the book like most members joint he X-Men: "Let's start it off slow. Oh wait, go for it full on!" What's that like for you as a writer to plunge into such intricate and expansive corner of the Marvel U?

Kieron Gillen: Intimidating, but there's nothing about working in the Marvel Universe which isn't intimidating.
It's particularly tricky. These are an enormous cast of characters, with a gargantuan amount of prior relationships. To me, it was important to keep certain things forefront in my mind. Mainly: Know what your story is. As in, there [are] so many aspects to worry about, you can risk losing track of the actual core of what you're talking about—and if you lose that, you lose everything.

Marvel.com: And your first solo assignment was #534.1, writing about how Magneto could be portrayed as a hero to the world at large. Looking at the current line-up, the X-Men have a number of former villains, from Emma to Namor, and some would say Wolverine was a villain in his first appearance. What's it like writing characters [that] are "reformed," and does that constantly spring up when planning out the series?

Kieron Gillen: The nature of heroism and villainy is one of the big themes of my X-Men work. "Sworn to Protect a World That Hates and Fears Them" is such a key line in the X-Men mythos, I'm just fascinated in exploring its possibilities. I like the dramatic tension. When we look at the X-Men team that Cyclops has gathered around him, we're right to note they're mainly reformed villains, and that should make us ask questions.
Generally speaking, I'm extremely comfortable with characters with morally questionable edges. It's the paragons I have problems with.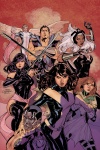 UNCANNY X-MEN #538 cover by Terry Dodson
Marvel.com: In "Breaking Point" you also got the chance to return to your old stomping grounds of S.W.O.R.D. How'd that set of circumstances come about for it all to dovetail back in like that?

Kieron Gillen: It's something that made me laugh a little when I realized I was going that way. My initial desire was to do a story that dealt with Kitty's intangibility head on. As in, "what's really going on here?" So what do I need to include in that story? I immediately went "Breakworld." If the bullet was the thing which created the situation, it has to be involved in the next step. I then started thinking about Breakworld, which made me immediately realise I had to bring S.W.O.R.D. in. And then I laughed, because I had found myself having to do the classic "writer brings characters from his cancelled book over to new book in first issue." But I didn't want to!
After I got over that, it was actually a joy to have a little play with Abigail Brand and S.W.O.R.D. again. They're characters I've got enormous fondness for. Also: UNIT cameo. Win!

Marvel.com: Tying further into your body of work, much in the way that your work on JOURNEY INTO MYSTERY delves into the political structure of Asgard, "Breaking Point" breaks apart the warrior culture of Breakworld after being their society fracturing following the X-Men's visit. How has it been writing these alien characters into an already crowded ensemble book and making it work?
Kieron Gillen: Tricky. Space was absolutely at a premium, and I wanted to develop the Breakworlders a little; mainly, trying to turn all their aspects—the "cure," their resurrection tech, their magic, their hatred of healing itself—into a single sort of coherent philosophy. But the most important thing was to try and create their plurality. We've a tendency to turn alien races into a single character with a single belief. Equally, in the real world, there's a tendency to exactly the same thing to refugees. We see crowds of people and treat them as a single thing, rather than a mass of individuals each who has their own story, and is there for their own individual reasons.
In other words, it was tricky to do, but absolutely necessary for the story work.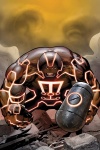 UNCANNY X-MEN #540 cover by Greg Land

Marvel.com: The last issue saw the humbled Kruun of Breakworld reveal he has some sinister motives and take Magneto out of the picture to get some measure of revenge. How can one man, even if he's an alien, hope to fight against a whole island full of mutants?

Kieron Gillen: By not fighting a whole island of mutants. Kruun's clever. He's the Count of Monte Cristo, and has a specific plan for revenge. He's been planning his night of the long knife for a long time.
Marvel.com: Another big revelation coming out of the last issue was the how and why of Colossus being resurrected years ago. Is that something you'll continue to explore going forward?

Kieron Gillen: Absolutely. The shame that the technology carries is absolutely central to the plot.
Marvel.com: After this, you and Greg Land are delving into Fear Itself. What can you say about that?
Kieron Gillen: The primary inspiration is a classic disaster movie. Because what's scary? Being hit? Maybe. But knowing a blow is coming and there's nothing you can do about it, that's a different kind of fear. I'm using Juggernaut—complete with his Worthy power—as a one-man force of nature. Where "Breaking Point" was about keeping the scale of the conflict tight, this one pretty much throws every single X-man you can imagine at this disaster that walks. I wanted to write a story which was constructed almost entirely on the rock of the church of the Juggernaut: "Nothing Can Stop the Juggernaut." It's a simple idea, but step by step, we try and build it up into something truly seismic.
Want to share your thoughts and opinions about Marvel.com? Sign up here to see if you qualify to participate in research on our site!