By Chris Arrant
Captain America may have been the tip of America's spear during World War II, but he didn't do it alone.
Beginning this June, writer Paul Jenkins and artist Carmine Di Giandomenico introduce a group of forgotten heroes and unravel a secret hidden over 60 years in ALL-WINNERS SQUAD: BAND OF HEROES.
Trained by Captain America and Bucky, this group of soldiers undertook a covert mission that struck them from the history books and relegated their adventures to the pages of Timely Comics. When an enterprising young writer learns about her grandfather's past at Timely, she begins putting together pieces that reveal Operation: Firefly and its unsung heroes.
This won't be Jenkins' first tour of duty when it comes to mining the Marvel Universe's hidden past, having revealed the formative years of Wolverine in ORIGIN and taking a new look at crucial creations with the MYTHOS series. The writer spoke with us about the All-Winners Squad and his own battlefield roots, as well as his examination of leadership in X-MEN: PRELUDE TO SCHISM.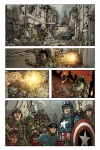 ALL-WINNERS SQUAD: BAND OF HEROES #1 preview art by Carmine Di Giandomenico
Marvel.com: Who or what are the All-Winners Squad up against in this series?
Paul Jenkins: What we're doing in ALL-WINNERS SQUAD: BAND OF HEROES is describing a group that's never been seen before. It's essentially comprised of Timely-era characters for the most part, but very obscure ones. The premise is that these guys were real war heroes back during World War II, and the military had Timely publish their exploits as a form of propaganda. Most of these guys only had a single appearance in comics because they died in battle. This series delves into that.
This band of heroes [is] pulled aside and put in training for a secret military operation. But what happens is that they undergo trials and tribulations such as special operations in the Pacific arena and the Battle of the Bulge. The main thrust of the story is what happened to them, which is one of the military's greatest secrets.
Marvel.com: In the past, the All-Winners Squad has had some all-star members. What's the team looking like for this limited series?
Paul Jenkins: We're largely talking about very obscure characters.
First you've got Taxi Taylor, who came from Timely's 1941-1942 era comics. He was a young kid who developed an amazing taxi machine that was like an early Transformer. You've also got Captain Strong, Vagabond, Moon-Man, Father Time and Merzah the Mystic. We also found an interesting character called Archie the Gruesome; he was a comedy character from the 1940's. Joining them are also The Blue Diamond, The Fighting Yank and a guy called The Fin. And we have this murderous Japanese-hating guy called Doug "Jap Buster" Johnson; he was this guy who killed thousands of Japanese soldiers who were America's enemies during World War II. The team even has their own Invisible Man from the Timely archives, just like in the movies. Another one I almost forgot is Davey Drew, whose origin story was called "Davey & The Demon." In that, the kid hears a noise behind a wall and once he investigates, a demon comes out. The demon thanks Davey for releasing him and gives him a magic cloak, and then promptly goes [out] to destroy the world. Davey, with this magic cloak, goes out to defeat the demon. In this limited series, we show Davey as a young guy tormented by war similar to the way he felt responsible for releasing the demon in his origin.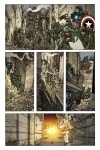 ALL-WINNERS SQUAD: BAND OF HEROES #1 preview art by Carmine Di Giandomenico
But of all the characters in the book, it revolves around a character called Slow-Motion Jones. He's an African-American character who was a sidekick to The Whizzer, and considering the time he debuted in the 1940's, was depicted in a very racist manner. Back then African-Americans served in segregated regiments of the military, and weren't even allowed to fight alongside white soldiers. For ALL-WINNERS SQUAD: BAND OF HEROES, we follow this story through the eyes and experience of Slow-Motion Jones. Back in the 1940's he was depicted as a wide-eyed, comedic, stylized racist caricature in comics, but in this limited series we show who he really was. We show that he was actually faster than The Whizzer, but was depicted in comics slower just so the reading public would accept it.
Marvel.com: Seeing as how ALL-WINNERS SQUAD: BAND OF HEROES delves into secret story of these characters can you tell us the secret origin of this limited series?
Paul Jenkins: This all came about after CAPTAIN AMERICA: THEATER OF WAR had come out. Tom Brevoort and I both really loved that book, and it received a good response from fans. I love being able to write about war, and it was right up my alley. Shortly after it came out, Tom called me up and asked, "Do you want to do a war series?" I immediately said yes, so we began talking.
What I came up with was this premise that the Timely characters actually existed, as G.I.s in a sense. They were a secret being kept ever since the Second World War, and at the end of this limited series we find out why.
One character I haven't mentioned to you yet is Captain Flame. He has the ability to absorb explosions and redirect it outwards. At the beginning of this series, we discover that Captain Flame was going to be a major character for Timely/Marvel. Shortly before his debut issue was to be released, the U.S. military requested all copies of the issue destroyed. If you remember, the premise here is the comic book heroes were propaganda for real fighting soldiers; so the mystery lies in the question of what happened to him, what was Operation: Firefly, as well as the terrible burden of the people who know the truth about his fate.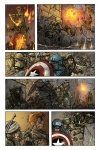 ALL-WINNERS SQUAD: BAND OF HEROES #1 preview art by Carmine Di Giandomenico
Marvel.com: Is this series set exclusively in the World War II era, or does it echo into modern times?
Paul Jenkins: It fits together like this: There's a young female writer. She has a successful career, but finds an interesting story in the tales her grandfather would tell about working for Timely Comics back in the day. He is very much a patriot, and talks about saluting Captain America and standing to attention at the playing of the national anthem, and so on. From his experiences, she wants to tell of his story of those times. But as he tells her, he knows of a very big secret: there's one comic that was printed but never published by Timely, and he has a copy in his basement.
Marvel.com: That would the debut of Captain Flame that you mentioned earlier, right?
Paul Jenkins: Yes. Let me just say, that'd be a very pricey comic if it were real. Anyway, she persuades him to tell her the whole story, and he introduces her to some of the boys from that era. Through her investigations, she begins to get the story of the incredible mystery of Operation: Firefly. During her research, we get to show some [of] Marvel's classic characters like Captain America and Nick Fury. Also, a very surprising character shows up in the story that reveals he was a part of this big mystery. I can't say who it is just yet, but it's a big deal.
But once she starts uncovering this sprawling 60-plus year old mystery, the machinery begins turning and people come forward who want to stop her from finding out the truth.
Marvel.com: You mentioned Captain America, and you're no stranger to him. You wrote the previously mentioned THEATER OF WAR series as well as a MYTHOS standalone story focused on him. What's it like coming back to him, and using the character as a key to tell this time-spanning story?
Paul Jenkins: Cap is a soldier, and a big patriot. He becomes a galvanizing force for these heroes when he's put in charge of them. They've also got a great drill sergeant named Sgt. Byrd; he runs the show and whips them into shape. Those two, along with Bucky Barnes, run the organization. In a way, these guys are the very earliest version of a Special Forces commando unit.
Back to your question about writing Captain America, I adore it. The way I've been able to write him, it's about showing true patriotism as opposed to jingoism; when it gets like that it means nothing. True patriotism is a real thing. Coming from family with a military background myself with great grandfathers who died in the First World War and a father who served with the Duke of Cornwall's Light Infantry, I think writing Captain America is a tremendous opportunity to talk about true patriotism and true love for one's country.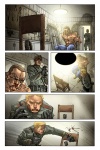 ALL-WINNERS SQUAD: BAND OF HEROES #1 preview art by Carmine Di Giandomenico
When I got the chance to write MYTHOS, I got to take the characters' origins and mix it with what was coming up in popular culture. For Cap, I got to redefine his origin and say why he would love his country so much. In that one-shot, I explained that Steve Rogers' father was a "Blue Spader"—a member of the 1st Battalion, 26th Infantry—and part of him wanting to enlist so bad was to be able to honor his father and join that same regiment. Another reason for Steve's patriotism is that he watched his own brothers die in battle. As I scripted Steve to say in the monologue for MYTHOS, it's very difficult to accept not getting hurt by bullets while seeing your friends and brothers die by your side.
Marvel.com: The All-Winners Squad holds the distinction of being Marvel's first ever super hero team, and in many ways they paved the way for groups like the Avengers. What's it like coming it to do a new squad with such a storied name?
Paul Jenkins: It's very gratifying for me. I truly do appreciate those old comics and those old characters. For this new team, I wanted to come in and provide some sort of depth for them that wasn't there before; "Davey and the Demon" for instance didn't have room for much of anything since he only appeared in just one seven page story.
Marvel.com: Clocking in at eight issues, this is a bold and expansive story. What led you and Marvel to attempt a story of this size and scope?

Paul Jenkins: I appreciate Marvel's support in doing this kind of book; once we decided on the story, I knew it needed to go for eight issues. When we did INHUMANS some time ago, it was twelve issues. A book of that length was met with some resistance, but I fought for it because we needed a larger set of issues to make these characters real. The Inhumans needed that to be alive; we couldn't just do a four-issue adventure and really be able to explain why Black Bolt is the way he is, or Medusa's role, or the others. It took a long time to evolve. The same is true with ALL-WINNERS SQUAD: BAND OF HEROES; we want readers to get to know these guys; to love them and understand them. Also, we've got a relatively complex mystery at hand to break down.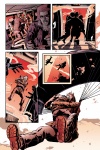 X-MEN: PRELUDE TO SCHISM #3 preview art
Marvel.com: The other big comic project on your plate right now is X-MEN: PRELUDE TO SCHISM. The first two issues brought Cyclops head-to-head with previous leaders of mutantkind in Charles Xavier and Magneto. What's it been like for you to get the various leaders of the X-Men and pit them against each other like this?
Paul Jenkins: This began with a conversation I had with Axel Alonso almost two years ago. We got into a discussion about the strength of well-done single-issue stories. Currently, single issues aren't carrying things right now in comics, but I really wanted to get back to that. I've done a series of books that functioned as a series of standalone stories, such as THEATER OF WAR. So Axel [and] I decided that the single-issue structure was a good way to look at the way leaders worked inside the X-Men. Once the ideas involved into this, it coincided with the planning for Schism and the editors thought it'd be a good intersection and in-road into that upcoming event. With X-MEN: PRELUDE TO SCHISM, we're able to foreshadow some of the events of Schism by focusing on the major leaders of mutantkind while still doing standalone stories.
In the first issue, we learned how Charles Xavier came to understand and respect Cyclops for doing what he could never do: unite and find a home for mutants. In the second issue, we revealed the inner workings of Magneto. His life has been framed by his experiences at Auschwitz, but we insert the revelation of how his father impacted Erik's life by how he raised him. As a boy, Magneto's father told him to never let your people abandon you or abandon your people. He was talking about his Jewish people, but the same thing applies to the mutant race Magneto was born into. Growing up, Magneto honored his father and carried that into this bold age of mutants. We're going to do the same thing with the upcoming issues focusing on Cyclops and Wolverine.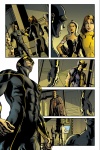 X-MEN: PRELUDE TO SCHISM #3 preview art
Marvel.com: What can readers expect in the final two issues of X-MEN: PRELUDE TO SCHISM?
Paul Jenkins: The theme of Cyclops' issue is that you don't have to be able to see to have vision. With Logan's issue, he delves into his idea that the key to being the leader is being the strongest around. Wolverine has that kind of wolf-pack mentality where the strongest survive. Wolverine's got a tremendous respect for Cyclops, but the decisions he makes as a leader are always subject to examination, in Logan's opinion.
Marvel.com: Can you tell us more about how Cyclops and Wolverine get along with each other?
Paul Jenkins: Well, I would say it like this: Cyclops doesn't ask for respect, but must command respect. He's the one guy who accomplished what no one else could do: unite his people. Although he hasn't made 100% perfect decisions every time, he's led them to the sanctuary they have on the island of Utopia. As Xavier has told Scott before, "I was wrong and you were right." Magneto agrees with that assessment.
Logan has that same respect for Cyclops, but the difference for Wolverine is that by nature he's a challenger. He's not going to blindly accept anything, even from someone he highly respects. What Logan is saying essentially is that while I have all the respect in the world for you, I'll still speak up if I don't agree with what you're doing. Wolverine becomes the kind of guy any good business would want; an agitator who's not a yes man and is able to ask the tough questions in order to get to the right answer.
And besides that, Cyclops and Wolverine have been rivals in love as well, so there's a history there.