By Chris Arrant
Training to be a costumed hero can be tough, but doing it under the tutelage of the world's premiere super-team presents a whole other level of challenge.
In the pages of AVENGERS ACADEMY, writer Christos Gage chronicles the lives of several would-be heroes—who were previously kidnapped and tortured by Norman Osborn—as they train under Marvel's finest and try to escape another possible destiny as the next generation of the Masters of Evil.
During Fear Itself, the students of AVENGERS ACADEMY fought on the frontlines against Skadi and her mechanized soldiers, but now face a more serious challenge: home alone in the Infinite Mansion with two of the Worthy out to get them. Marvel.com caught up with Gage to talk about the conclusion of this crucial tie-in plus what tomorrow will bring. 

AVENGERS ACADEMY #20 cover
Marvel.com: The students of AVENGERS ACADEMY have gone through a lot in Fear Itself after being dispatched to go up against Skadi in Washington, D.C. We've still got two issues to go, but what kind of mark will the event leave on your crew?
Christos Gage: After a harrowing fight in Washington, which exposed them to the horrors of war for the first time, the kids are now trapped in the Infinite Mansion without any teachers, but with Absorbing Man and Titania, who have been altered by the Serpent's hammers to be much deadlier than before. Meanwhile, the Infinite Mansion is slowly growing out of its subatomic dimension, threatening to crush an entire city when it materializes in our world. Without spoilers, I can tell you that most if not all of the kids will be affected by what has happened to them during the events of Fear Itself—including, but not limited to the taking of enemy lives in combat—for a long time to come.
Marvel.com: There's a seismic shift to the series with October's AVENGERS ACADEMY #20. Can you give a clue as to what's coming up?
Christos Gage: The cast of AVENGERS ACADEMY will be shaken up. How? Through death? Will one of the kids turn bad? Read on and see! Writing issue #20 was kind of emotional for me because, even though I felt like what happened had to happen, and was something we've been leading up to since issue #1, it was still the end of an era for AVENGERS ACADEMY, but hopefully the beginning of an exciting new one.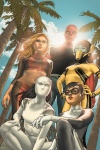 AVENGERS ACADEMY #21 cover
Marvel.com: The upcoming cover for #21 shows a new line-up, with Julie Power from Power Pack and someone who looks like the heroine White Tiger. What role will they play in the series?
Christos Gage: Julie Power, a.k.a. Lightspeed, is the first experienced young hero to join our core team. She'll bring a perspective that hasn't been there before—and not all her peers will appreciate that. For her part, she's coming out of a period in her life when she was trying to reject super-heroics, but after seeing that fail, and seeing her brother Alex enjoy being in the Future Foundation, she's decided to go in the other direction. She's involved in the journey all young people face, trying to figure out who she is and what she wants to be.
As for The White Tiger, I will reveal that she has ties to the original; she is not Angela Del Toro and she is going to hold her teammates to the high standard she feels the first White Tiger embodied. But the kids of AVENGERS ACADEMY tend to be flawed in one way or another, and she is no exception. We'll find out more about that as we go along.
Marvel.com: In addition to these new recruits, I see some notable absent students here: Reptil, Veil and Striker. Did they simply not show up for class pictures, or did something else happen?
Christos Gage: At least one of them is no longer with the team as of #21. Let the guesses begin!
Marvel.com: Now on the cover to issue #23, we have Mettle flinging X-23 into the reader's lap. How does Laura end up in AVENGERS ACADEMY?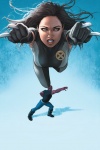 AVENGERS ACADEMY #23 cover
Christos Gage: There'll be a more extensive explanation in issue #23, but suffice it to say both the Avengers Academy faculty and the X-Men felt it would be beneficial. Laura has "baggage" with some of the X-Men kids she doesn't have here. And she has struggled with some similar issues to cast members from AVENGERS ACADEMY, including wrestling with being a killer. So they're hoping it will benefit all concerned. Of course, there are risks, too.
Marvel.com: One of the things hanging over the heads of the students and staff of AVENGERS ACADEMY is the fact that the students were recruited because of their potential villainous ways. Will that continue to be a part of the series, and if so, how is it changing now that the kids have been together for awhile?
Christos Gage: It will most definitely continue to be the heart of the series, and given what happened during Fear Itself, for some of the kids it will loom larger than ever. What's interesting now is that the kids are forming relationships with each other, such as the romance between Mettle and Hazmat. The question is whether that will be a good thing or just another potential motive for going down a darker path.
Marvel.com: One of the things people enjoy about AVENGERS ACADEMY has become the school aspect, harkening back to the classic days of the X-Men. Why do you think mixing super heroes and schooling makes for such great comics?
Christos Gage: Thanks for a very flattering comparison! I think it works because when you're young, everything is intensified. Emotions, relationships, decisions; if you make the wrong choice, it could literally affect the rest of your life. Add super-powers to that and you have a winning formula! Also, it's a universal experience. We all either have been, are or will be teenagers. So anyone can relate to what the characters are going through—in a general sense, if not the "fighting angry gods" sense!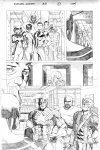 AVENGERS ACADEMY #21 preview pencils by Sean Chen

Marvel.com: People coming, people going; after the events of Fear Itself, it seems there's change afoot inside AVENGERS ACADEMY. Where does the future lie for the team?
Christos Gage: They'll be moving into the old headquarters of the West Coast Avengers, and opening the doors to any young hero who thinks they could benefit from learning under veteran Avengers. Our focus will remain on the core team, but we're opening up a lot of story potential with some of the background characters, and I'm having a blast writing people like Sentinel, Wiz Kid and Butterball from time to time. Regarding the faculty, we will be losing at least one teacher, and gaining one—someone I personally always think of when I think of the Avengers, whose presence makes a ton of sense given what these kids are going through. Oh, and we have a murder mystery on our hands, which means someone is not long for this world…
Marvel.com: Why the move from the Infinite Mansion to the old West Coast Avengers HQ?
Christos Gage: From a creative standpoint, we wanted to ground our characters in a specific location. The Infinite Mansion was isolating them from the world, in a sense, because it was in a microscopic dimension. We felt that the Avengers West compound was an ideal choice, because it's steeped in Avengers history, but at the same time we're not in New York, where they'd get overshadowed by other super heroes. With the X-Men, Runaways, Moon Knight and now Avengers Academy, Marvel Earth's California is becoming a pretty interesting place!
Marvel.com: In addition to students and staff, you've been gifted with some great artists to collaborate with, including current co-pencilers Tom Raney and Sean Chen. What does it take to find the right artist for the book, and how did you know these two had "it"?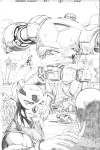 AVENGERS ACADEMY #21 preview pencils by Sean Chen
Christos Gage: Yeah, from co-creator Mike McKone to out current all-stars Tom Raney and Sean Chen—to say nothing of excellent inkers like Scott Hanna, Rebecca Buchman, Dave Meikis and Andrew Hennessey, our dependable and brilliant colorist Jeromy Cox, oh, and what the heck, it won't kill me to admit letterer Joe Caramagna is pretty great as well—we've been blessed with some amazing talent. With Tom, I had been a fan of his for many years; the same is true for Sean, who I had actually worked with on both WAR MACHINE and MIGHTY AVENGERS, so I knew what terrific storytellers they were. But with a book like AVENGERS ACADEMY, which focuses on young people, many of whom are new characters, you never quite know until you see the art if it's really going to work in the magical way you hope for. With both Sean and Tom, it was magic from the start. They love the book, and it shows in their work. I have to say, kudos to editor Bill Rosemann and the rest of the publishing team; we've been batting a thousand recruiting artists so far. Even when we've brought in folks for just one issue, like Jorge Molina or Andrea DiVito, the results have been brilliant. As a writer and a fan, I've been very lucky and I hope it continues!