This past weekend Super Bowl watchers were treated to the new
"Marvel's The Avengers" trailer
showing the heroes in action, including our first full look at the gargantuan Hulk. Well, the Marvel Select toy line has been making waves lately with its larger figures, which tower over other entries in the 7-inch-scale line, and last week they finally unveiled their movie version of the Hulk! Standing 8.25 inches tall, he stands a good inch taller than the rest of the movie-based Avengers DST has made, and features 16 points of articulation for a full range of smashing. He's available for pre-order now from your local comic shop and from online retailers, as are Hawkeye and DST's figure of one of the movie's mystery foes!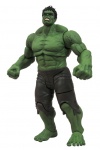 Marvel Select Hulk

Here's your Avengers checklist:

Captain America (WWII outfit): Available now
Thor (Thor movie outfit): Available now
Loki (Thor movie outfit): Available now
Hulk: Coming in April
Iron Man Mark VI (Iron Man 2 movie re-issue): Coming in April
Hawkeye: Coming in May
Mystery Foe: Coming in May

Marvel Select figures are sold at comic shops, specialty stores and most online toy retailers, so start your "Marvel's The Avengers" collection today!