By Ben Morse
On March 14, Earth's Mightiest Heroes come together like never before as the stars of this summer's big screen blockbuster "Marvel's The Avengers" face a different kind of adventure in AVENGERS ASSEMBLE #1 by the celebrated creative team of writer Brian Michael Bendis and artist Mark Bagley. As we count down to this action-packed new ongoing series, over the next five days we will get Bagley's insider insight on bringing these characters to life and also debut exclusive art from the first issue!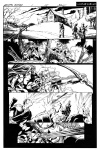 AVENGERS ASSEMBLE #1 inked preview art by Mark Bagley
Even among immortals who command the storm, men wearing suits of armor beyond seeming imagination and legendary soldiers from another era, there has always also been room among the Avengers for "ordinary" people; though being one of Earth's Mightiest Heroes means even without super powers, you're likely extraordinary in some way.
In AVENGERS ASSEMBLE, two mainstays of the team, Hawkeye and The Black Widow, will stand up right beside the likes of Captain America and Thor, with the title's artist making sure they never get lost in the background.
"Hawkeye is the cocky buccaneer of the team—always has a smile on his face and is ready at a moment's notice to write a check his butt can't cash," says Mark Bagley. "Natasha has earned her place on the team and [writer] Brian [Michael Bendis] will treat her thusly. She certainly isn't going to be the 'chick' character."
This will not be Bagley's first experience with the Avenging Archer in particular, as he chronicled his adventures for several years in THUNDERBOLTS. However, Clint Barton has evolved tremendously since then, all the way to his brand new outfit.
"I'm taking [that] all into consideration of my approach to him this time around," says the artist of Hawkeye's modified look, which nods to his counterparts in the Ultimate Universe as well as "Marvel's The Avengers" as influences. "I'm drawing him leaner than I did before, with cosmetic changes of a different haircut and stubble on his chin. Really though, the biggest difference is that it has been a long time since I drew him, and my approach has evolved over time."
The Black Widow promises to hold her own as the sole female member of the book's initial core cast. Natasha Romanov has always relied on a combination of cunning and brutal physicality, so Bagley will be honing her visual appearance to reflect proficiency in both.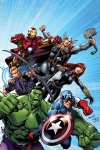 AVENGERS ASSEMBLE #1 cover by Mark Bagley
"[She is] sexy as hell, period," he notes. "I see her as buxom, but not soft in any way. A real athlete's body couple with confidence and grace."
As you can see from the preview page above, Hawkeye and Black Widow will pair off for action immediately in AVENGERS ASSEMBLE #1, and they're already providing their artist with some of his favorite scenes:
"There is a nice couple of panels where Hawkeye looks in a rearview mirror, sees something coming at him, pops out of the vehicle window and shoots off a couple of arrows at something that is clearly way out of his league."
Check in again tomorrow when Mark Bagley assembles another Avenger and shares more exclusive art with us!