By Ben Morse
On March 14, Earth's Mightiest Heroes come together like never before as the stars of this summer's big screen blockbuster "Marvel's The Avengers" face a different kind of adventure in AVENGERS ASSEMBLE #1 by the celebrated creative team of writer Brian Michael Bendis and artist Mark Bagley. As we count down to this action-packed new ongoing series, over the next five days we will get Bagley's insider insight on bringing these characters to life and also debut exclusive art from the first issue!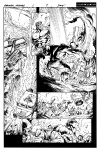 AVENGERS ASSEMBLE #1 inked preview art by Mark Bagley
Thor walks in two worlds. He guards his home realm of Asgard, regardless of its location, and counts himself among the gods of the Golden Realm. However, he also relishes in being one of Earth's Mightiest Heroes, standing shoulder to shoulder with his comrades as he will once more in AVENGERS ASSEMBLE.
Mark Bagley finds this dichotomy to be key in structuring his own portrayal of the Thunder God.
"He's a god with a warrior's soul," Bagley relays. "Thor really respects 'heroes.' He knows we are just humans and he is a god, but he brings no prejudice to it, just an admiration for those who stand against the wall and defend those who are unable to defend themselves. He counts himself lucky to have companions like [the Avengers]."
However, while Thor might be comfortable with dwelling among mortals, the world surrounding him and those who live there won't always feel similarly at ease.
"I'm going to try and have him look slightly out of place when in the 'real' world," Bagley discloses. "I don't know if I can, but I'd like him to look always a bit larger than the space he's in. A huge regal presence in any room he's in, with a 'don't mess with me' vibe that drips off him.
"I see Thor as six foot six or so, wide and imposing. His helmet and cape help to add mass to his figure."
To help him cast the Son of Odin's visual profile, Bagley looks to creators both past and recent for inspiration and guidance.
"John Buscema's run on Thor really blew me away," he says. "John Romita Jr. was really something as well. [He] draws everything so stinking well that it is intimidating thinking about taking on a character he did so wonderfully. [And Jack Kirby] wasn't called 'The King' for nothing.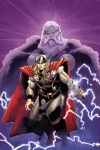 Thor by Olivier Coipel
"I have to [say] I'm a huge fan of [Olivier] Coipel's recent work on Thor. I love the design of the current costume and the distinct look of Thor's face that Olivier created. I'm not going to be shy about emulating that at all."
There's no official word on every location AVENGERS ASSEMBLE will span yet, but if Bagley has his way, the Thunderer will pay a visit to his most familiar haunts at some point.
"I got to draw Asgard in [FEAR ITSEF: THE FEARLESS] and it's always fun to tackle something like that," he notes. "That is so visually different and requires so much thought to design elements to portray the magnificence of that realm."
As he rounds the corner on the first couple issues of AVENGERS ASSEMBLE, what Thor moment has been the artist's favorite thus far? One he thinks will surprise fans in at least one regard:
"He wrecks a Humvee—but not in a way you would think."
Check in again tomorrow when Mark Bagley assembles another Avenger and shares more exclusive art with us!