By Jim Beard
Over seven decades ago, history occurred with the debut of Captain America in 1941. 70 years later, Steve Rogers and his star-spangled alter ego have grown to iconic status, remaining a mainstay of the Marvel Universe while also expanding into the realms of television, film and more.
On April 4, 2014, the Sentinel of Liberty returns to the big screen in "Captain America: The Winter Soldier" from Marvel Studios. As the countdown to Chris Evans picking up the shield once more heats up, we present the definitive comics history of Cap, from his debut to the modern day.
Follow along with us weekly and look for more Captain America on Marvel Unlimited and through the Marvel Digital Comics Shop.
As Captain America struggled through adapting to a modern time, that world never ceased throwing more challenges at him. In fact, in addition to new menaces the likes of which our hero would never have dreamed of in the 1940's, he came face to face with his most fiendish World War II-era opponent.
TALES OF SUSPENSE #73 continued the saga of the Sleepers, devilish automatons constructed during the war and destined to bring about the Nazi dream of global dominance. The Second Sleeper arose and joined with the First to create a nearly unstoppable force, but in TALES OF SUSPENSE #74, Cap witnessed the horror of a Third Sleeper forming with the other two to create an unholy terror.
After defeating the Sleepers, Captain America ran afoul of a French mercenary named Batroc the Leaper in TALES OF SUSPENSE #75, as well as a female S.H.I.E.L.D. agent who seemed very familiar to our hero. Both the agent and Batroc sought out a canister of Inferno 42, a deadly substance desired by a secretive, shadowy group. Cap won out by the end of TALES OF SUSPENSE #76, but the woman fell victim to Inferno's deadly aura and Batroc escaped to leap another day. Steve Rogers reminisced about another girl he loved and lost during World War II in TALES OF SUSPENSE #77.
In the present day, Nick Fury of S.H.I.E.L.D. joined forces with the Sentinel of Liberty in TALES OF SUSPENSE #78 to create an unbeatable team. Their foe? A hulking android sent by A.I.M., an evil conglomeration of scientists bent on world mastery through their creations.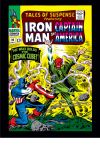 Cap thought he might've gone crazy in TALES OF SUSPENSE #79 when only he alone could see armored A.I.M. agents skulking about. Our hero doped it out, though, and uncovered the use of a hypnotic device, but elsewhere the Red Skull reared his ugly head again and set his evil eye upon A.I.M.'s Cosmic Cube, a highly-powerful transmutation device. In TALES OF SUSPENSE #80, Cap landed smack dab in the middle of the Skull's island hideout and got an in-his-face demonstration of the Cube's otherworldly might. Never one to shirk responsibility, the hero leapt into battle with his old enemy in TALES OF SUSPENSE #81 and, despite the Cosmic Cube's crackling energies, saved himself from the Red Skull's power-drunk destruction of the island. The Cube tumbled down into the sea, seemingly lost forever, while its former master disappeared hopefully for good.

Another A.I.M. creation, the artificial entity called the Adaptoid, came calling in TALES OF SUSPENSE #82 and, after subduing Captain America, took his face and place. An egotistical crook named the Tumbler appeared in TALES OF SUSPENSE #83 to make a name for himself by defeating Cap, but found himself locked in combat with the disguised Adaptoid instead. The real hero freed himself from his bonds and triumphed over both the android and the Tumbler. Later, in TALES OF SUSPENSE #84, the Adaptoid evolved into a "one-man Avengers," the Super-Adaptoid. Fighting Cap to a standstill high above the city, the A.I.M. creation, believing he'd fulfilled his programming by destroying Captain America, left to go into hiding and ponder his future.

The terrorist group called Hydra nabbed Agent 13, Cap's beautiful S.H.I.E.L.D. agent, and used her to lure him into a trap in TALES OF SUSPENSE #85. After a rescue attempt behind the Bamboo Curtain in TALES OF SUSPENSE #86 and a ruse by the Master Planner to pose as Cap in TALES OF SUSPENSE #87, the Sentinel of Liberty jetted off to Sea Gull Island in TALES OF SUSPENSE #88 to discover both a returned Red Skull and a resurrected Bucky Barnes, his youthful sidekick from World War II. Bucky turned out to be a clever construct of the Skull's in TALES OF SUSPENSE #89 but the villain didn't stick around long enough to take his lumps for the pain he caused his enemy.

In TALES OF SUSPENSE #90, the Skull encased all of New York City in a gigantic force-bubble and used it to blackmail Cap into 24-hour servitude. Rogers unwillingly divulged secret information on the government's XPT-1 atomic submarine to his old foe, but made up for it by tracking the Red Skull down in TALES OF SUSPENSE #91 and seeing that the Nazi went down with the ship—literally.
A.I.M. continued to bedevil Cap in TALES OF SUSPENSE #92 with mechano-assassins, and then sprung their latest twisted creation on him: M.O.D.O.K. Captain America fought the bloated half human, half-machine thing in TALES OF SUSPENSE #93 and managed to escape with Agent 13 while M.O.D.O.K. engaged his self-destruct sequence in TALES OF SUSPENSE #94.
Finally, after all their troubles and travails, Steve Rogers and Agent 13 found time to go out on a date in TALES OF SUSPENSE #95, but Cap made the mistake of proposing marriage to the beauty who, citing her duty to her country, turned him down. Steve, crestfallen, announced his retirement as the Sentinel of Liberty. As a shaken world watched, numerous imitators arose in TALES OF SUSPENSE #96, but Nick Fury proved to Rogers that only the real Captain America could hold back the tide of evil that threatened the country on a daily basis.
Read more TALES OF SUSPENSE on Marvel Unlimited!