By Kerry Fiallo & Nancy Nguyen
Kotobukiya is back again with more extraordinary Marvel figures!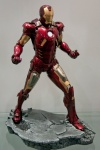 Iron Man Mark VII
This is a big year with the upcoming "Marvel The Avenger's" and Kotobukiya is here to show off the line with high end Avengers products. Due for release in April 2012, Kotobukiya is presenting the Classic Avengers series Fine Art Statues which include Iron Man, Captain America and Thor, all sculpted by the master Eric Sosa. Kotobukiya is also presenting their Avengers Movies Art FX line due for release in June 2012. This series includes Iron Man Mark VII and Captain America with interchangeable heads. Kotobukiya has created the finest and most exciting ARTFX statue of any Iron Man, bringing more fine detailing than previous hand-sculpted releases for a more dynamic display. The Iron Man Mark VII stands in a classic pose and comes equipped with a three-mode LED chest light-up feature: Off, Continuous On, and triggered by the built-in motion detector. Iron Man's eyes also feature continuous LED lighting in both modes. Other fine arts statues include Magneto (also with an interchangeable head) and the X-Force Series Fine Arts Statue Archangel (online only).
Let's not forget about the Amazing Spider-Man! Due for release this coming spring, Kotobukiya is also preparing to launch a Fine Arts Statue of the Amazing Spider-Man. The release date is still to be determined.

X-23 Bishoujo Statue
Kotobukiya also continuing their Marvel Bishoujo line. These lovely ladies have it all! Incredibily feminine and dangerous, they are a must have for any collector. This year, they are releasing two new statues: Mystique and X-23. Coming from reknowned illustrator Shunya Yamashita, these are 1/7th scale PVC statues due out in February and March 2012, respectively. Along with Mystique and X-23, other upcoming Bishoujou statues include Elektra and Black Widow (grey suit). These lovely ladies are retailing at a price of $59.99 and can be pre-ordered online at Kotobukiya's website. Stay up to date with Toy Fair 2012, Kotobukiya, and all things marvel at Marvel.com
Check out the gallery below for images of Kotobukiya's Toy Fair 2012
line up. Check out more images of Toy Fair 2012 here and Kotobukiya images here!