By Kerry Fiallo and Nancy Nguyen 

Marvel fans will have a lot to look forward to this year, with not only the highly anticipated releases of both "Marvel's The Avengers" and "The Amazing Spider-Man" films, but also a ton of awesome toys and collectibles from Hasbro.

Mega Web-Shooting Spider-Man
At Toy Fair New York 2012, Hasbro unveiled new and exciting toys, such as the new Mega Web-Shooting Spider-Man figure. Measuring at 16-inches tall, this Spidey uses his artificial web-shooters to combat evil-doers, just like Andrew Garfield in the upcoming film.
Spider-Man does a lot more than shoot webs, of course, and with the Hasbro R/C Speed Climbing Spider-Man, you'll get to control Spidey's wall climbing action. With the included remote--and using vacuum technology--you can make Spider-Man crawl across any smooth surface, horizontal or vertical.
Hasbro also unveiled plenty of impressive new items for fans of "Marvel's The Avengers." For those looking to be a part of Earth's Mightiest Heroes, there's signature role play items for each Avenger, such as Thor's hammer complete with thunderstorm sound effects and Cap's shield with projectile blasters. You can even collect the four core 10-inch Avengers: Iron Man, Thor, Captain America and The Hulk, all of which have battle action capabilities.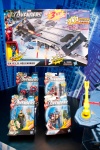 S.H.I.E.L.D. Helicarrier and Avengers figures
But perhaps the most exciting item Hasbro has in store for Marvel fans is "The Avengers S.H.I.E.L.D. Helicarrier." Measuring in at three feet in length, the Helicarrier is the biggest vehicle in Hasbro's "Marvel's The Avengers" line. With all that room, the Helicarrier can fit 30 of the 3.5-inch figures, and features four projectile firing deck cannons. Look for it to hit shelves this fall with a 3.75-inch Captain America in tow!
Hasbro was also home to the exclusive unveiling of Bonka Zonks, an awesome new game with collectible figures of over 100 of your favorite Marvel characters. Due to hit shelves in the spring, Bonka Zonks will be available in five different forms: the Bonka Zonks Blind Bag assortment, a 4-pack, a Face Case, the Head Quarters which can hold up to 24 Bonka Zonks, and the Spider-Man Stackrobatic Stunt Set which comes with the Slampoline for launching your figures, four battle blocks, three Stack Strips, Battle Dish, and Sticker Accessories!
Fans can play with Bonka Zonks using the four key elements: flick, stack, spin and attack. Plus, each Bonka Zonk item comes with a stunt card featuring an online code to unlock more games at Bonkazonks.com, due to go live later this year!
Of course, Hasbro has not forgotten Marvel Comics. In fact, the Marvel Legends line of figures is due to come back this year.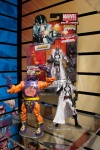 Marvel Legends
Some of the figures new to Hasbro's 6-inch Marvel Legends line include Daken: Dark Wolverine, Klaw, Madame Masque, Hope Summers and Bucky Cap. Also, be sure to look for notable additions to Hasbro's Build-A-Figure line, Terrax and Arnim Zola.
For Marvel's youngest fans, Hasbro and PLAYSKOOL have plenty of exciting toys, such as the Marvel Super Hero Adventures play set, complete with ski loop and wall-climbing Spider-Man! Youngsters also looking to go on super hero adventures, there's the Spider-Man role play mask and web slinger. The Stunt City Spider-Man play set even comes with an appearance by the Lizard, the villain of "The Amazing Spider-Man," and a storybook adventure starring your friendly neighborhood Spider-Man.
Be sure to look for all of these items and more as they hit stores this year and check out more updates on Toy Fair 2012. Also enjoy the full image gallery below!