By Marc Strom
Michael Chiklis is no stranger to television or super heroes, which makes his role as Jim Powell in ABC's "No Ordinary Family" doubly appropriate.
The series, premiering this Tuesday, September 28 at 8/7c on ABC, centers around the Powells as they find themselves suddenly imbued with super powers after their plane crashes into the Amazon River.
Chiklis, who plays the family patriarch, sees this series as something that could only have come together in this day and age.
"I've said on a number of occasions already that we're sort of making a 45-minute Marvel feature every week," says the Emmy-winning actor. "No one's been able to do that before. It's only thanks to the technical aspects of filmmaking leaping forward exponentially over the last several years that [we're] able to do this sort of show with this sort of scale in such an abbreviated period of time and on a far smaller budget than your average feature film is done for. You'd never be able to do this otherwise. It's daunting at best."
While the family's newfound super powers will drive much of the story, they won't necessarily be the sole focus of the series.
"You have a family show at its core to be sure, but you also have it wrapped in a police procedural, and the whole thing is buttoned up by a super hero element," explains Chiklis. "That allows us to do so many different things and tell stories in such a unique and different way, and makes the whole thing very exciting to be a part of."
With the variety of genres at play in the series, Chiklis found himself attracted to a number of elements when he first read the pilot.
"I've got to say that it wasn't any one [aspect that interested me]," he remarks. "It was the challenge of doing something that encompasses all of those that made me [wonder], can we pull this off? Can we do it tonally? When I looked at the pilot, I thought this is a lot of things to wrap your arms around. There's comedy and there's suspense; there's action, there's drama. You really run the gamut. My biggest questions to [series creators] Greg Berlanti and Jon Feldman at our very first meeting were, let's talk about tone. Can we strike the right tone for this pilot, and then subsequently the series? After talking to these guys, they were just brilliant and funny and smart and mentchy, and I just thought yeah, I can do this with these guys."
Marvel fans may remember Chiklis' turn as The Thing in both Fantastic Four feature films, and while he sees some parallels between the FF and the Powells, "No Ordinary Family" will also borrow from a number of different super hero stories.
"[The Powells and the Fantastic Four are both] somewhat dysfunctional families, and they're suddenly endowed with powers that they didn't have before," notes Chiklis. "And in that way their origins are very similar, and some of the dilemmas they face because of it are similar, but I can draw parallels between 'No Ordinary Family' and a number of different Marvel franchises [as well].
"I thought the pilot felt very similar in tone to Spider-Man, because that had the familial aspect between his Aunt and Uncle [as well as] the romantic stuff between [Peter] and [Mary-Jane]. Then there's also the darker and exciting super hero aspect to it. There's another franchise that's not Marvel, but [in our show] Romany Falco's character is sort of a cross between Alfred and Robin [to my Batman]. There are all these familiar aspects to the show, but with their own spin and bent on it that we're making our own and making unique in the way we do it. If you're going to do a super hero show, there are going to be familiar aspects to anything you do. But as long as you take the best influences out there-and certainly Marvel's the Best in Show in this area-you're going to be all right."
The question of how the Powells will adapt to their new found abilities will "be the main thrust of certainly the entire first season," according to Chiklis.
"And everybody's different," the actor says of his family's characters. "My character goes from feeling lost, disenfranchised and unsure of his role in the family to a guy who now all of a sudden has a new direction in his life, a feeling that he can make a difference in the world and be the man that he's always envisioned himself to be. Whereas [with] my wife's character, it's almost the opposite. She's able to be the mother and wife that she felt she could never be because she was always so busy running around trying to be all things to all people and she couldn't be anything except for successful in the workplace.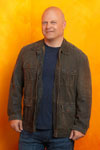 "Then again, now that she's able to spend more time with the family, I'm running off trying to make a dent in the crime in the city I live in and she's trying to hold the family back together, whereas I was the one trying to do that before. My daughter, for example, she is so freaked out by what's happening to her she's patently rejecting her powers. She doesn't want to hear everybody's voices [and] what they're thinking. Because yeah, that can be useful, but it can also be pretty disturbing and unwelcome. So it's a struggle, [our powers are] a blessing and a curse at the same time. What does this mean for us, and does it only exacerbate our family problems or make them better? It makes it better and worse."
As a kid, Chiklis also had a strong affection for Marvel Comics and characters ever since he first stumbled upon them.
"I'll never forget, I was at Lake Winnipesaukee with my family. We had a little speed boat there, and we used to go to Weirs Beach and to the arcade there. I was about 10 years old, and I walked by the big newsstand in front of the arcade and I saw my first comic book. I'll never forget it, I saw the Fantastic Four. I bought it-I think they were like 25 cents back then, I'm aging myself. I bought a number of them, I bought a Thor and I believe an Iron Man. I instantly became a fan of Fantastic Four, Thor, and Iron Man, those were the first three. Then of course I went on to enjoy a number of other comics, Spider-Man, Captain America...the X-Men came later, so I wasn't a fan of the X-Men until the movies came out. It was all those early Marvel franchises that I really lit up to."
Given his history playing Ben Grimm, we had to ask Chiklis one question before letting him go: Who would win in a fight, The Thing or Jim Powell?
"I don't know that that's winnable. I just think that they'd end up pounding each other into the ground, looking at each other and going, 'Stop. Let's go have a cup of coffee.' It's a draw, I think."
"No Ordinary Family" premieres Tuesday, September 28 at 8/7c on ABC.
To find a comic shop near you, call 1-888-comicbook or visit www.comicshoplocator.com
Not a subscriber to Marvel Digital Comics Unlimited yet? Join now!
Download SPIDER-WOMAN and ASTONISHING X-MEN Motion Comics now on iTunes! For more information on motion comics, visit the Marvel Motion Comics hub!"
Download episodes of "X-Men: Evolution", "Wolverine and the X-Men", "Fantastic Four: World's Greatest Heroes" and "The Super Hero Squad Show" now on iTunes!

Check out the official Marvel Shop for your favorite Marvel Heroes!