Marvelites, rejoice! Konami Digital Entertainment will release the classic "X-Men" arcade game originally released in 1992 for the very first time outside of arcades, making it available on both the PlayStation Network as well as Xbox LIve Arcade in Fall 2010!
In "X-Men Arcade,"
Cyclops, Colossus, Dazzler, Nightcrawler, Storm and Wolverine unite to use their special powers to save mankind from the Brotherhood of Evil Mutants and other terrible threats. Players will have to fight off hundreds of Sentinels, along with Super Villains such as Pyro, the Blob, Wendigo, Nimrod, the White Queen, Juggernaut and Mystique, as they battle their way to Island M to take down the Master of Magnetism, Magneto, and save Kitty Pryde and Professor Xavier.
"X-Men Arcade" brings the fun and excitement of the hit arcade game to next-generation consoles as players can engage in multiplayer action with 1-4 players supported locally and 1-6 players supported online. Online drop-in multiplayer is activated, allowing anyone to jump in on the battle at any time. High-definition heads-up displays, menus and local/online leaderboards have also been integrated to track statistics and scores.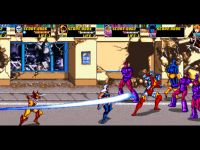 Players will be able to select the Custom Match Mode that will allow them to choose the kind of session they would like to join by setting the amount of players, difficulty and what level to start in to create a truly unique online experience. Players will also have the ability to select the Create Match Mode where they can establish themselves as the host and have the ability to control incoming players, number of players, difficulty setting, and starting level to have complete veto power over the match. For players looking for the ultimate X-Men challenge, multiple difficulty modes will also be available.
"Just like with our comics, Marvel has a rich history of great video games, and we're happy to play our part with Konami in reintroducing this classic to fans of all ages," said
Seth
Lehman, Vice President, Business and Legal Affairs for Marvel Entertainment, LLC. "Fans have been clamoring for 'X-Men Arcade' to hit consoles for 18 years now, and we're confident they'll definitely find this re-release was worth the wait. The game looks and plays exactly like we remember it--all without the added worries of being low on quarters when you're closing in on Magneto."
To find a comic shop near you, call 1-888-comicbook or visit www.comicshoplocator.com

Not a subscriber to Marvel Digital Comics Unlimited yet? Join now!
Download SPIDER-WOMAN and ASTONISHING X-MEN Motion Comics now on iTunes! For more information on motion comics, visit the Marvel Motion Comics hub!
Download episodes of "X-Men: Evolution", "Wolverine and the X-Men", "Fantastic Four: World's Greatest Heroes" and "The Super Hero Squad Show" now on iTunes!

Check out the official Marvel Shop for your favorite Marvel Heroes!